Poll: 59% of Americans Want TSA Agents to Carry Guns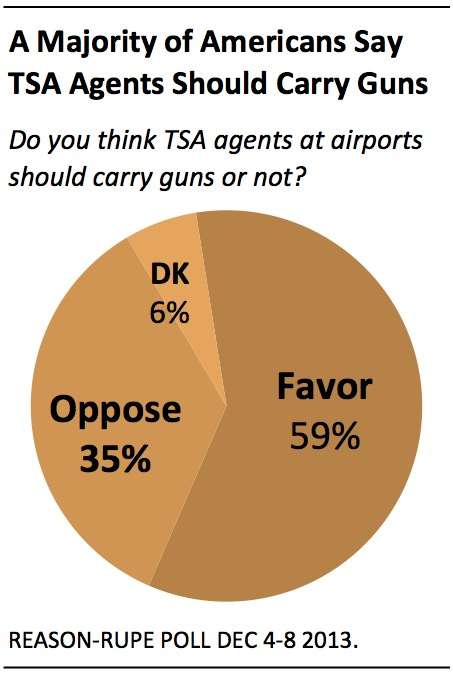 A month following the fatal shooting of a Transportation Security Administration (TSA) officer at Los Angeles International Airport, a majority of Americans, 59 percent, say that TSA agents in airports should carry guns. Thirty-five percent of those surveyed believe TSA agents should not be armed.
Nearly two thirds of both Republicans and Democrats favor arming TSA agents. Support declines somewhat among non-partisan independents (51 percent favor) and Republican-leaning independents (50 percent favor). While 3 in 10 Democrats and Republicans oppose the TSA carrying guns, 4 in 10 independents agree. The only political group in which a majority (56 percent) oppose arming TSA agents are self-identified libertarians.
Nationwide telephone poll conducted Dec 4-8 2013 interviewed 1011 adults on both mobile (506) and landline (505) phones, with a margin of error +/- 3.7%. Princeton Survey Research Associates International executed the nationwide Reason-Rupe survey. Columns may not add up to 100% due to rounding. Full poll results, detailed tables, and methodology found here. Sign up for notifications of new releases of the Reason-Rupe poll here.