Some EU Members Call for Freezing of Foreign Aid to Egypt Ahead of Emergency Meeting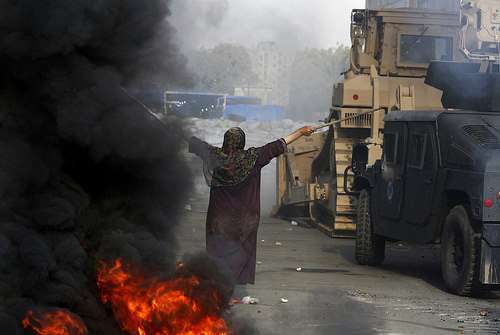 Diplomats from the European Union are scheduled to meet for an emergency meeting in Brussels on Monday to discuss how to respond to the ongoing situation in Egypt.
Unlike the Obama administration, some European members have suggested freezing foreign aid to Egypt.
From the BBC:
EU diplomats will hold an emergency meeting in Brussels on Monday to discuss their response to the bloody crackdown in Egypt.

Some EU states have suggested formally freezing European aid to Egypt.

There would also be the possibility of imposing sanctions against members of the interim government or military.

"Nothing is off the table," said one source, though no formal decisions will be taken yet. Gulf Arab aid to Egypt dwarfs the EU's assistance.

It is thought likely Monday's talks could lead to a full gathering of EU foreign ministers on the Egypt crisis.

Denmark has already announced that it is suspending two projects it is currently working on with the Egyptian government and public institutions.
Since Egyptian security forces stormed protest camps set up by pro-Morsi demonstrators earlier this week over 600 people have been killed and thousands have been injured. The Egyptian interim government, which has been widely criticized because of the crackdown, is only in power thanks to the military, which overthrew Morsi last month in a move that the Obama administration has refused to call a coup. In fact, Secretary of State John Kerry said a few weeks ago that he thinks that the military acted to restore democracy when they removed Morsi from power. Given that yesterday Obama was only willing to announce the cancellation of a joint-military exercise with Egypt and call for the end of the state of emergency imposed by the interim government in response to the recent violence the generals in Cairo would be right to be more worried about losing aid from the E.U. than the U.S.