Hollande Defends Plan to Send Weapons to Rebels on Second Anniversary of Syria's Civil War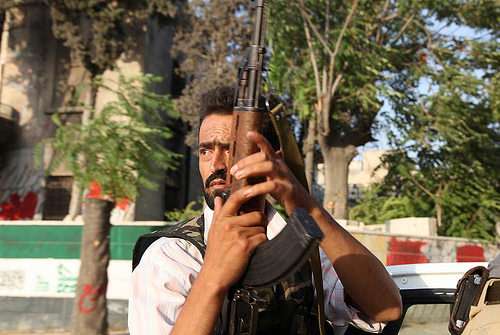 French President Francois Hollande has defended his plan to send weapons to Syrian rebels. British Prime Minister David Cameron has joined Hollande in pushing for the European Union's arms embargo on Syria to be lifted.
Speaking at a meeting of leaders from the European Union Hollande said that he was not concerned that weapons sent to Assad's opposition would end up in the hands of Al Qaeda-linked groups that have been fighting with the Syrian rebels.
From the BBC:
In a news conference, UK Prime Minister David Cameron said: "If we want to take individual action, [and] we think that is in our national interest, of course we are free to do so."

Mr Hollande later said he accepted that before any weapons could be delivered, the opposition must give "all necessary guarantees".

"It's because we have been given those [guarantees] that we can envisage the lifting of the embargo. We have the certainty on the use of these weapons," he said.
Today marks the second anniversary of Syria's civil war, which has left around 70,000 dead and over a million currently living as refugees.The conflict has not only had an impact on Syrians, each of Syria's neighbors have had to deal with the war in different ways.
Turkey has had to deal with shells and mortars being fired from Syria into their territory, which resulted in Turkey responding with military force, killing Syrian soldiers.
A jihadist group has claimed responsibility for the killing of Syrian soldiers in Iraq, who were in Iraq seeking temporary safety.
Israel has attacked a convoy along the Syria-Lebanon border, claiming that the convoy was carrying arms that could have ended up in the hands of Hezbollah, which is fighting against the Syrian opposition with Assad's regime. United Nations peacekeepers have said that they have been shot at while stationed in the Golan Heights, an area that some Syrian rebels say they want to "liberate" after Assad is defeated.
Jordan is facing a humanitarian crisis, as it is one of the main destinations for Syrian refugees. Jordan is also where British, French, and American military instructors are training Syrian dissidents.
It is of course also worth mentioning that Iran and Russia, two of Assad's allies that have also been very much involved in the conflict.
Given the involvement of Syria's neighbors and allies in the civil war it should not be surprising that the U.N. recently warned that the two-year-old conflict has the potential to engulf more of the Middle East. How Hollande would be able to guarantee that the weapons he sends to Syrian rebels will not end up in the hands of unpleasant rebels for the duration of a conflict that has the potential to involve more belligerents is anyone's guess.