France and UK May Arm Syrian Rebels Despite EU Embargo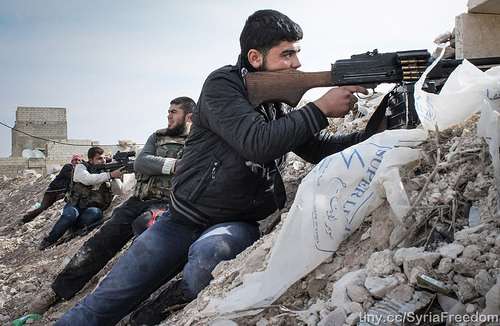 The French Foreign Minister Laurent Fabius has said that France and the U.K. have "identical views" on the Syrian conflict and would consider arming Assad's opposition, even if such a move would be in violation of the European Union's arms embargo on Syria.
The embargo, which British Prime Minister David Cameron has said that the U.K. could try to veto, is up for extension in May.
Fabius' comments come a day after Russia warned the U.K. that arming the Syrian rebels would be a violation of international law, a sentiment that was repeated by Syria's state media. While the Russians might not be happy with military aid being sent to Syrian rebels, Turkey's foreign minister expressed support for Fabius' statements. From Reuters:
Turkish Foreign Minister, Ahmet Davutoglu, whose country is a fierce critic of Assad and harbors Syrian refugees and rebels, backed Fabius' comments.

"If the international community displayed in a very clear and decisive manner the will to stop the Syrian regime waging war, there would be no need for any kind of arming," he said.

Echoing comments by Russia, which has protected Assad from any U.N. measures, Syria's state news agency SANA said arming rebels would be a "flagrant violation of international law".
One of the concerns about arming the Syrian opposition is that jihadist elements among the Syrian rebels could acquire weapons that would help these groups further destabilize the region. It seems that these concerns are becoming less considered; an unnamed senior French official told Reuters the following:
The well-known arguments against arming the rebels—finding a political solution first, not militarizing the situation or weapons falling into the wrong hands—are losing their impact,
However, it looks as if a conflict between the Shiite Assad ally Hezbollah and the Al Qaeda-linked Jabhat al-Nusra could begin along the Syrian border with Lebanon, further complicating the conflict. Given that it would be impossible for any country to assure that arms it supplies to Syrian rebels would not fall into the hands of elements that could make the conflict worse it is hard to see why an increasing number of foreign politicians seem so keen to arm Assad's opposition.