San Francisco Bans Public Nudity; "When Will They Ever Learn?"
The invisible walls on the open-air prison that is America get tighter as San Francisco's Board of Supervisors votes (by a skin-thin margin) to ban public nudity in its city--joining repressive brethren such as San Jose and even (now is the time for your tears) Berkeley.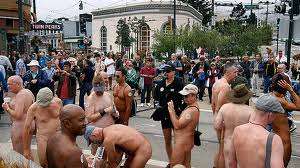 This is the kind of thing I'm socialized to believe is already illegal everywhere; while aware people do sometimes walk naked on the streets of everyone's favorite city by the Ba-aay, I never assumed it was actually legal.
Apparently it was, and some defiant folk intend to make sure it stays that way, says the San Francisco Chronicle's account:
Attorney Christina DiEdoardo, who is representing several people opposed to the ban, said a federal judge could order an injunction to stop the law from taking effect during a hearing scheduled for Jan. 17.

DiEdoardo said the surprisingly close vote gave her hope that one supervisor could switch his or her vote before the second reading of the bill.

"We only need one person to change their mind," she said. "It's a completely unjustified restraint on free speech."
The mayor hasn't signed the bill yet, and a second vote by the Board is necessary before it goes to him, so the naked truth may still win out. Even if passed, the new law is but light drapery, not a heavy burqa. It
exempts nudity at private beaches, private property and permitted special events - like Bay to Breakers or the Folsom Street Fair - and doesn't apply to children under 5 years old. Violators would be fined $100 for the first offense and $200 for the second in a 12-month period. Convictions under the proposed law wouldn't result in a sex offense, but a third offense could bring a $500 fine or a misdemeanor.
Sure, one probably wants a little something to ward off the cold in those brutal San Francisco summers. But even on a warm San Franciscan night? When will they ever learn?
I wrote back in April 2001 about the eternal evolution of lifeways and mores in San Francisco; Tim Cavanaugh wrote recently about the city's dark 1970s.