Former Intelligence Officer Can Sue Pentagon For Censoring Book on 9/11, Afghanistan Failures
A federal judge has ruled Anthony Shaffer has standing to sue on first amendment grounds over the censorship of his book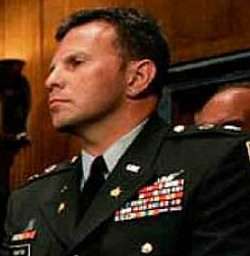 As noted on Reason 24/7 yesterday, a federal judge ruled that Lt. Col. Anthony Shaffer (ret.), author of Operation Dark Heart, has standing to sue the Pentagon (specifically the Defense Intelligence Agency, for whom Shaffer worked) and the CIA for censoring his book, which detailed his experiences heading a black ops team in Afghanistan and how he saw military brass turn potential success into inevitable failure early on.
In fact, heavy redactions of the book were made after the Pentagon demanded to re-review it. A first, unredacted, edition of 10,000 copies was printed and the Pentagon purchased all the copies and destroyed them. The unredacted version, of course, is available with an online search.
In Shaffer's judgement, he tells Reason, that second review "was conducted for political, not security, purposes." Shaffer says the DIA retaliated against him for "being a whistleblower against them in the 2005 protected disclosure to Congress of the ABLE DANGER project, and DIA's specific failures to properly use pre-9/11 intelligence to prevent the 9/11 attacks." Shaffer has also been an outspoken critic of the Pentagon's counterinsurgency strategy in Afghanistan, which he said "would not work to achieve any permanent stability in Afghanistan," and said that was a part of the Pentagon's suppression effort as well. The last chapter of Dark Heart lays out Shaffer's own policy recommendations on the war.
As for the redactions, they include things like the a in "a-team" and "Ned Beatty," used to describe how someone looked. Shaffer says such redactions were "for no possible security reason other to try and render the book unreadable." The Pentagon's public efforts at suppressing the book, naturally, have helped make it more popular.
Shaffer characterizes the review as "abusive" and the redactions as "excessive," and is suing for a violation of his First Amendment rights.