Barack Obama for Student Body President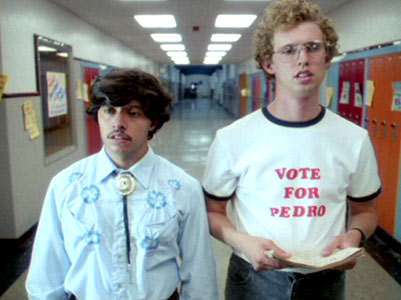 Every time I finish a blog post about Dave Eggers' 90 Days, 90 Reasons, I tell myself: "No more. Just leave it alone." What worked for my pimples in high school, I tell myself, probably applies to skin-deep politics: 90 Days, 90 Reasons will go away on its own; meanwhile, the less I pick at it, the less people will notice.
But then I remember the mission statement Dave Eggers wrote (to provide Democrats "daily reasons—concrete, factual, plain—to re-elect Barack Obama…[and] likely outcomes of a Romney presidency"), and just like those pimples of yore, I can't help but pick. Reason 62, titled "He Has the Power of Three Eagles" and written by musician and comedian Reggie Watts, has once again made the experience worth it:
He's not an asshole. He's handsome. He's eloquent, well-spoken. He's mixed-race, like me. He's a hard worker. He enjoys enjoyment. He's skinny, which I wish I was. He seems to make some good decisions… most of the time. He has the power of three eagles. He is not really weird and inhuman like the other candidate. He's not creepy, like the other candidate. He's a known quantity. He seems to enjoy a peaceful, educated world. He's not Romney. He plays basketball. Romney sucks at basketball. He doesn't believe in wearing magical underwear, like Romney does. He's not a robot, like Romney is. He's tall. He enjoys cats. He's very friendly and has good teeth. One bad thing about him is that he needs to start saying "to" instead of "tuh." But he's halfway in the middle of the things he wants to accomplish; let's give him a chance to finish it out. Also he's not Romney. And he's not a racist. If people vote for Obama, it will be a world filled with people going, "Wow, Americans are pretty smart." If we vote for Romney, the rest of the world will say, "I don't know what's going on, but I don't think it's going to be a good time for the next four years." Vote for Obama if you want to party and be enlightened.
Critics of Team Blue have compared Democratic support for Obama, particularly in the face of his authoritarianism, to support for a cult leader. But belonging to a cult means studying your leader's teachings and practicing effective proselytization. Watts, and the other celebrities who have written for 90 Days, 90 Reasons, do neither. With the exception of "free" health care, they can't seem to name (much less explain) anything Obama has done, or anything he plans to do. Hell, they don't even quote him. Instead, they describe how he looks and what his hobbies are, and how awesome it is that he has time to pay attention to them. Obama is a popular kid, and people like Watts are voting for him as if he were running for student body president.
Can you blame him?
Obama seldom opens himself up to interrogation by critical media, and left-of-center outlets have spent the last three-and-some years either attacking the people standing in Obama's way, or painting him as giving this whole president thing his best shot. ("What's the world's hardest job like on a day-to-day basis?" is what Rolling Stone asked Obama in April.) The result is that people who don't get paid to follow politics get their news from people who are too embarrassed to criticize the guy they reported into office (and likely voted for).
That process gets you things like 90 Days, 90 Reasons: an independent Get Out the Vote project compiled by people who consider themselves "high information voters," but aren't. A more worrisome example of this occurred in August, when The Awl, a generally left-of-center site I've written for and dearly love, hosted a conversation titled, "How Do You Like Barack Obama Now?" The occasion for this meeting of the minds was the paperback release of Jodi Kantor's The Obamas: A Mission, a Marriage. It featured one of the more disheartening and eye opening public exchanges I've seen this political cycle, between critic Nicole Cliffe and novelist Sarah Miller: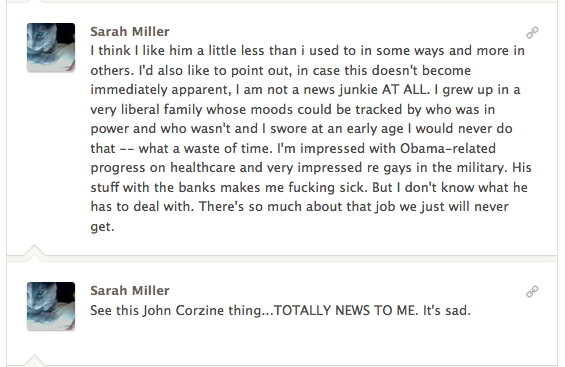 RIP, liberal counterculture.