Anti-Austerity Protests in Greece Turn Violent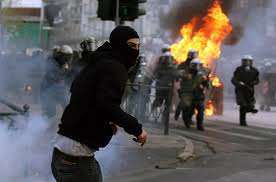 Anti-austerity protests in Athens turned violent today, with so-called "anarchists" being blamed for much of the vandalism and rioting outside the Greek parliament.
The protests came on a day of strikes, with workers demonstrating against 11.6 billion euros worth of cuts. Without the implementation of austerity measures Greece's future bailouts could be put in jeopardy. Among the unpopular proposals being considered by the Greek government are pension cuts and raising the retirement age.
Much of the anger is being aimed at the troika of the International Monetary Fund, the European Commission, and the European Central Bank. Representatives from the troika are expected to release the findings of their Greek audit later this month or the beginning of October (though some think the release could be even later than that). If the audit finds that Greece is not cutting enough spending and failing to make necessary privatizations then a bailout becomes less likely and Greece will almost certainly have to default on its debt.
The BBC reported on the frustration and anger of Greeks:
An estimated 50,000 people joined Wednesday's protests, including doctors, teachers, tax workers, ferry operators and air traffic controllers.

Banks and historic sites in Athens remained shut, with many shopkeepers expected to close up early so they could attend demonstrations.

Schools and government services also closed down, though buses were still running, reportedly to help ferry people to the protests.

"We can't take it anymore - we are bleeding. We can't raise our children like this," Dina Kokou, a teacher, told Reuters news agency.

"We won't submit to the troika!" and "EU, IMF out!", "People, fight, they're drinking your blood," protesters chanted.
Unfortunately for the protesting Greeks they cannot keep with the spending and remain in the eurozone, despite what leftist leaders like Alexis Tsipras would like them to believe. The Greek fiasco has been dragged on for too long thanks mainly to political, not economic, concerns. The seemingly inevitable divorce from the eurozone will be more painful as a result.