As Pension Reform Is Hammered Out in San Jose, Heroic Police and Firefighters Rush to Declare Themselves Injured
Tax-free pensions without losing the ability to work and draw another salary - what's not to like?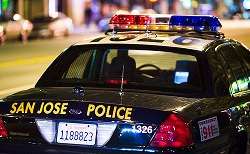 If the open worship of union employees – both public and private – at the Democratic National Convention seemed jarringly out of step with the experiences regular shmoes actually have out in their own states and cities … wait, why did I start this sentence with "if"? Via Bloomberg Businessweek:
Police officers and firefighters in San Jose, California, are rushing to join a program that lets them claim disability and retire in their 30s and 40s—and that allows them to get tax-free pensions while taking new jobs elsewhere.

The benefit also allows retired police and fire employees in California's third-largest city to change their pensions to claim the tax break.

"It's certainly double-dipping," said Mayor Chuck Reed, 64. "Disability retirement should be for people who are seriously injured and can't work. Those people obviously can still work and apparently weren't seriously injured."
More than half of San Jose's retirement payments to police and fire retirees were related to disability claims, higher than most large cities in California, Alison Vekshin reported.
San Jose is one of the two cities in California where voters approved pension reform ballot initiatives in order to try to keep costs from bankrupting the cities (the other being San Diego). The measure passed with 71 percent of the vote, but unions are obviously trying to stop the changes. One change would stop this expensive little "disability" trick:
San Jose voters in June approved a ballot initiative, Measure B, that will limit public-safety disability retirements to those who can't do the job they did before or any other work in their department.

It also will replace the board of four current and retired police and fire workers and five other members, who now consider the applications, with an independent panel of medical experts.

"The problem lies not in the fact of whether people are injured or not, but where that line between an injury and a disabling injury is," San Jose Councilmember Pete Constant, a non-voting retirement board member and a former police officer on disability retirement, said in a telephone interview.
There are currently 143 disability retirement applications under review in San Jose. The board approved 94 percent of all applications for the past decade, Vekshin noted. Her lengthy analysis of the system bears a full read-through when you have time.