Playing SWAT On a Drug Raid Gives Texas Blogger Self Esteem Boost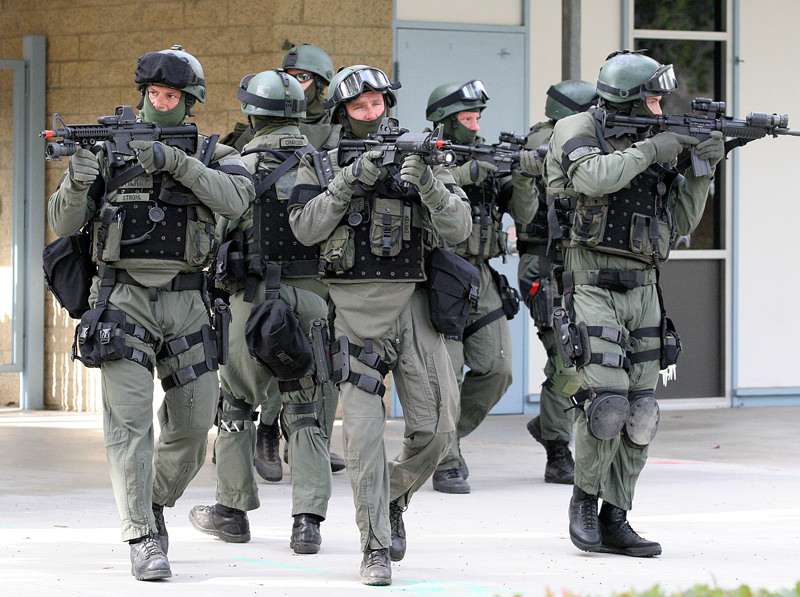 Your terrible drug war-friendly editorial of the day can be found over at Texas' Victoria Advocate. Blogger Adriana M. Acosta has written a stirring account of how much fun it is to get dressed in SWAT gear and play drug raid. She is very timid and shy, see, so playing hero-cop is a big deal.
First, some background from the blog where Acosta goes on a ride-along with cops:
As most of you already know, I joined the law enforcement academy a few weeks ago. I mostly joined because I have always been interested in knowing how law enforcement operates. I also thought it would be a good opportunity to explore what they do and write a few stories from those experiences.
But though she gains new respect for cops after this experience, the real moment of self-actualization came when Acosta got to put on SWAT gear.
The night started off with officers describing the gear, the cost, what they carry and how they use it. Then the night got even more exciting when they said they would be simulating a drug bust and house break in. When they first walked in yelling, "Sheriff's office, get on the ground!" holding guns and then firing—it was thrilling for me. Then they asked for volunteers. Oh surely I can't do that, I thought.
Two volunteers went before me, I stood in the front of the class observing what they were doing, how they were putting their gear on.
"Adriana, go next," said Lt. Baker.
"Me, oh no, that's OK," I said in a shy voice. Although my inner self was jumping up and down for joy because I really wanted to wear that gear and hold that gun.

[…]
"Sheriff's office, get down!" I said.
I pointed the gun to the targets, shot a few shots and then it was all over…. I am not a real officer and I know I will never be an officer, but that night shed some light on what they do to protect us civilians.
Sound familiar? There are definite rings of Fox reporter Troy Hayden's little boy-glee over Maricopa County's SWAT team. The two of them should report play together!
Acosta is less dangerous to the world even than a local Fox reporter, she's probably not even worth a blog post of critique, but good Lord, instead of creepy enthusiasm, she's also creepily self-deprecating about her inability to do such a noble thing as be a member of a SWAT team. Firing guns is fun, and Acosta, contrary to self-description, is not even a reporter or a professional-quality blogger. Still, one moment of questioning would have been nice, even for such a minor, mediocre reporter; one moment to consider the real-world ramifications of what she was parroting by practicing drug raids.
Acosta is also the editor of the Bay City, Texas weekly Matagorda Advocate, which is pretty much a great reason to cheer for the demise of the press.