D.C. Court Scolds TSA for Ignoring Its Ruling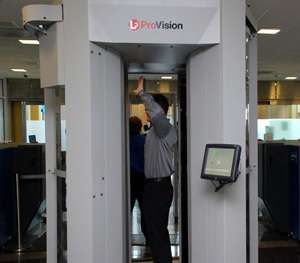 After more than a year of applying body-scanning technology without government oversight, the TSA may have to establish some formal rules and procedures for using the machines.
The infamous full-body scanners are used at 19 airports across the country. In 2010 the Electronic Privacy Information Center filed a lawsuit challenging the legitimacy of body scanners. The Court of Appeals in the D.C. Circuit ruled the following year that the TSA needed to create some comprehensive rules for body scanner use. And of course the TSA promptly ignored it.
After a year of the TSA doing absolutely nothing, the court has demanded that the TSA create some body-scan regulation.
With all of that in mind, Cato's Jim Harper has created a "Require the Transportation Security Administration to Follow the Law!" petition on the White House website, which demands the TSA either make some rules about scanning, or cut it the hell out. If the petition has 25,000 signatures by next Thursday, the White House is comitted to respond formally. So sign it.