Former GOP Presidential Candidate Buddy Roemer Calls For Gary Johnson to Be Included in Romney and Obama's Presidential Debates
"Nowhere is it written--in the Constitution or elsewhere--that we should have only two choices for President," Roemer said.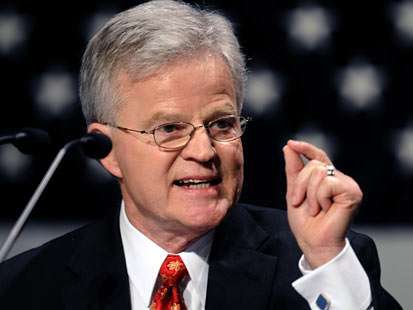 Former GOP presidential candidate Buddy Roemer, himself no stranger to exclusion, called today for Libertarian Party presidential candidate Gary Johnson to be included in the Mitt Romney and Barack Obama's televised debates.
From the email sent out by the Johnson campaign:
"I saw and experienced first-hand how the media and major party 'establishment' can use debate invitations to narrow the field in a presidential election. That should not be allowed to happen this Fall. Gary Johnson is a very successful two-term governor who has currently met the requirement of being on the ballot in enough states to be elected President. He must be in the Presidential debates."

"Despite what the vested special interests, the media, and the two 'major' parties would have us believe, nowhere is it written -- in the Constitution or elsewhere – that we should have only two choices for President. Especially when those two choices are basically the same choice. Voters deserve the opportunity to see and hear a candidate who will offer real alternatives for this nation. Gov. Gary Johnson offers that alternative. Johnson, has the resume and record to back up what he is saying. Gov. Gary Johnson's voice deserves to be heard."

"I have gotten to know Governor Johnson over the past several months, I am convinced that he is a capable and proven leader. His message deserves to be heard, and as a fellow former governor, I have tremendous respect for his record as a chief executive. He is a leader that many Americans could easily support if only given the opportunity."
The Commission on Presidential Debates, a nonprofit cofounded by the Republican and Democratic parties in 1987, requires that a candidate receive 15 percent in five major polls to be included in the televised debates leading up to November.