Lingering Anxiety, Regulatory Fears, Better Productivity: Why Businesses Aren't Hiring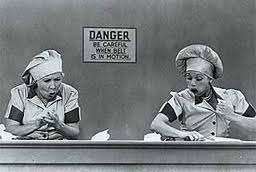 An interesting piece in yesterday's New York Post notes that "net profit margins for private companies in the 12 months ended in April were up some 6.5 percent, compared with the 4 percent that was chalked up three years ago."
The source for that data is the analytic firm Sageworks, which tracks the fortunes and failures of the privately held companies that make up the vast majority of businesses in the United States (only around 6,200 out of 27 million business establishments in America are publicly traded). Sageworks says that sales are up along with profits. In fact, in 2011, the firm says private company sales increased over 8 percent and the same is holding true so far in 2012. Which is pretty damn good, especially coming on the heels of rotten years where sales declined.
And yet, firms aren't hiring as expected, even after almost three years of economic growth. Sageworks interviewed 450 "financial professionals" in April and May and here's the breakdown of why they say companies are not hiring: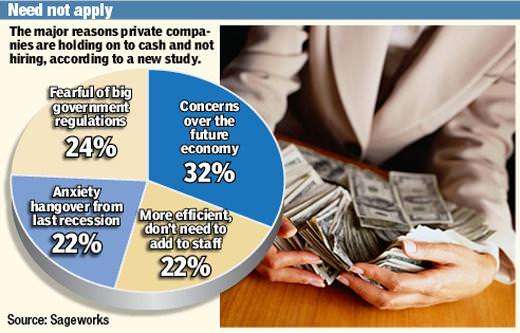 Though private-sector hiring, like public-sector hiring, is increasing, Pace University economics professor Joseph Salerno told the Post that most businessess are going to sit tight through the election:
He says there is "a pervasive regime uncertainty" affecting the economy. Employers don't know what new rules, laws or taxes will come next year, after the presidential and congressional elections.
I couldn't find the methodology of or questions asked in Sageworks survey, but the general results ring true, don't they? I assume regulations are always in the back of employers' minds, but between Obamacare, Dodd-Frank, and who knows what else, those worries must be amped up. Even with the Supreme Court signing off on the broccoli tax, businesses can't really figure out what they'll be paying in fines, fees, or penalties come 2014 and beyond. And that's assuming that the GOP doesn't gain enough power to scuttle all or part of the plan. Anxiety about the past recession and concerns over the near-future speak for themselves too. Are workers getting more productive? All signs point to yes, or, same thing, companies realized that they were either trying to do too many things of marginal value or were carrying a lot of marginal workers. It always takes a while for companies to start rehiring after a recession or downturn. Given the intensity of the downturn, the vagueness of the regulatory and economic future, and continuing gains in machine-driven productivity (computers, damn computers, in everything), I suspect any return to normalcy is going to take a very long time.