University Adviser Dies Days After Being Shackled and Hooded by Cops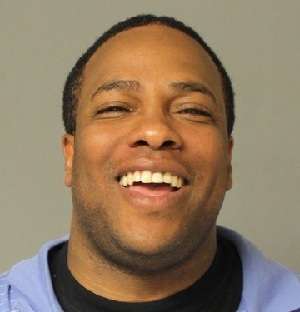 University advisor Patrick Toney died at the Baltimore Washington Medical Center Tuesday after being left there by Anne Arundel County police officers last Friday. The Baltimore Sun reports on the police encounter:
[P]olice said a sergeant spotted a black Jeep Cherokee stopped on the side of Piney Orchard Parkway with its emergency lights flashing. Police said the driver, identified as Toney, got out of the Jeep and began "throwing items out of the vehicle and onto the ground."
Police said the officer "asked if everything was OK, when the driver made statements that he wanted the sergeant to shoot him. The driver continually acted in an erratic manner by walking around in circles in the roadway and making other irrational statements, causing an immediate danger to himself."
Police say they restrained Toney, a 41-year-old academic advisor at Bowie State University, by shackling his feet and putting a "spit hood" over his head, after, police say, he spit on them and asked to be shot by a sergeant. Toney had been released on bail several hours earlier after being arrested on child abuse charges related to a domestic dispute the previous day. After restraining Toney, he was placed in a squad car. The Baltimore Sun reports what police say happened next:
While in the back of the police car, authorities said he tried to kick out the windows and the glass divider between the back and front seats. But police said Toney became suddenly quiet during the ride to the hospital, and the driver noticed him unresponsive.
Police said he was not breathing when they arrived at the emergency room but that he was revived and hospitalized.
Anne Arundel County Police Lt. Michael Brothers, a department spokesman, said the officer driving the police car noticed no trauma on Toney's body and reported no use of force other than putting him in restraints. Brothers said that Toney did not hit his head while in the police cruiser.
Toney's family has retained counsel and the Maryland State Medical Examiner is investigating the cause of death.
UPDATE: Photo released by the Anne Arundel County Police Department.
UPDATE 2: The family attorney says Toney had no mental health problems and that his wife said he was in "good spirits" despite the previous day's arrest.