The Pain of Bain Falls Mainly on Romney's Campaign? Not Quite
Newt Gingrich's attacks on Romney are good news for Mitt, but bad news for the rest of us.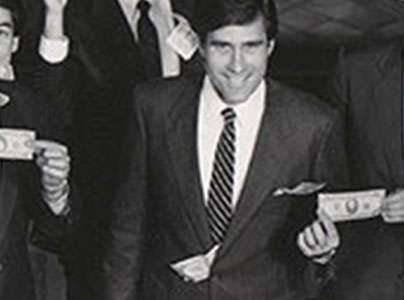 Believe it or not, Newt Gingrich is doing Mitt Romney a favor. Gingrich has spent the past week attacking Romney's tenure as the head of Bain Capital, the private equity firm Romney helped found in the 1980s. Through his own words and a propagandistic documentary produced by Winning Our Future, a well funded pro-Newt Super PAC run by a former campaign aid, Gingrich has attempted to paint Romney as a heartless, out of touch, capitalist monster—the King of Bain—whose firm made millions through mass firings and layoffs. The campaign, however, has mostly backfired. Gingrich has united the conservative chattering class against him enough that Winning Our Future's major financial backer, casino magnate Sheldon Adelson, has distanced himself from the documentary, and Gingrich has called for its producers to either edit the film or "pull it off the air and off the internet entirely." In the process, Gingrich has managed to generate the one thing that the Romney campaign has failed to win or buy for itself: sympathy.
But what's good for Romney may be bad for the rest of us. Gingrich's attacks aren't just helping to unite conservatives in defense of Romney, they're distracting from the very real flaws in Romney's record.
Gingrich's criticisms of Romney's time at Bain Capital have backfired in part because they're straight out of the liberal playbook. Indeed, they amount to attacks on the essence of capitalism: creative destruction. That's especially true of Romney's Bain Capital, which was spun out of Bain and Co., an early player in the world of high-end management consulting, in the mid 1980s. Most private equity firms at the time relied primarily on financial engineering to increase the value of the companies they worked with.
But according to Stephen Kaplan, a professor at the University of Chicago's Graduate School of Business, Bain Capital's innovation was marshalling the tools of management consulting in hopes of transforming companies into entities that weren't just better financed, but better run. Private equity firms, Kaplan wrote in a 2008 paper for the National Bureau of Economic Research, "applied performance-based managerial compensation, highly leveraged capital structures, and active governance to the companies in which it invested." Overall, the strategy seems to have been a success: The "evidence suggests that private equity activity creates economic value on average." For all practical purposes, Gingrich is attacking Romney for having run a business that helped create value.
The attacks on Romney aren't just misguided; they're also inaccurate, relying on factual errors and quotes taken out of context. Here's just one example: The half hour documentary funded by the Gingrich-supporting Super PAC Winning the Future tells the story of UniMac, a Florida company that made laundry equipment. The documentary leads viewers to think that UniMac was bought and shut down by Bain through another firm, Raytheon, that was Bain under a different name. But as CNN Money's Dan Primack noted earlier this week, Bain and Raytheon weren't the same thing. Raytheon bought UniMac in 1994, then merged it with other companies. Bain didn't buy that unit until four years later.
Even the timing and delivery of Gingrich's attacks will likely help Romney in the long run. If Romney wins the nomination, the Obama campaign will have a harder time using Bain's record against him. Not only will they be old news, they'll be associated with a disreputable, discredited Republican candidate.
Meanwhile, Gingrich's attacks have distracted people from the true problems with Romney's record—his long history of flip-flops, his enthusiasm for technocratic fiddling, his unimpressive Medicare reform proposal, his significant role in passing the Massachusetts health care overhaul that served as the model for ObamaCare, and the weakness of his plan to undo ObamaCare through federally granted waivers to the states.
Gingrich's suicide run ultimately tells us more about his own desperate political narcissism than it does about Mitt Romney, whose business career is the best part of his record. There are plenty of reasons to complain about Romney, but his time at Bain isn't one of them.
Peter Suderman is an associate editor at Reason magazine.