OWS vs. Romneybots Outside GOP Concord Debate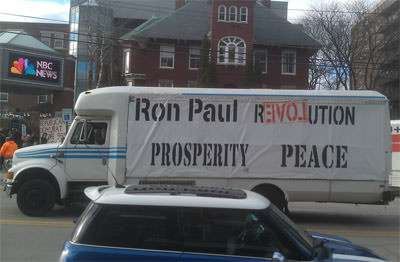 CONCORD, NH –Loud, sign-waving supporters of the Republican presidential candidates created a festive atmosphere here outside this morning's NBC debate. The impressive turnout filled both sidewalks outside the Capitol Centre for the Arts. Supporters of the Republican candidates were not alone. Activists from the United Auto Workers and the Occupy movement were in attendance, bothering Romney supporters with an unoriginal chant:
"Hey hey! Hoho! Romney greed has got to go," they shouted while mingling with the Romney people.
Romney supporters tried to drown out the protestors, but they failed. The frontrunner's team needs to work on its chant coordination.
Supporters for Romney's one time major rival, Rick Perry, were nowhere in sight. The Texas governor has all but given up on New Hampshire.
Across the street Orthodox Jews from the organization Neturei Karta International were protesting Israel. They have been in the Granite State since yesterday and they plan on going to events for Romney and Ron Paul later in the day. According to photocopied flyers they were passing out they are an "anti-Zionist Jewish" organization.
The Paul supporters were out in force passing out the legendary Super Brochure as well as waving homemade signs. One large sign on the back of truck touted Paul's strong support from the military. The Brochure is a double sided glossy pamphlet the size of two regular sheets of paper. Nobody from any of the other candidates or protest groups outside the debate was handing out anything as intricate as this.
"This has information, if you're trying to educate yourself this is it," said Manchester native Ann Buchman after I asked her about the small font in the brochure.
The 27-year-old welder called the brochure a great tool to help persuade people. "It's not geared toward one specific topic," she noted. "It's got the range of his beliefs."
"And the pictures, are awesome," she said.
In the spin room after the debate, Mitt Romney and Sen. Scott Brown advisor Eric Fehrnstrom said he is confident that Brown (R-Massachusetts) will defend his Senate seat against Elizabeth Warren this November because "people are comfortable with" his brand of Republicanism:
Also in the spin room, Sen. Rand Paul (R-Kentucky) declined to say how his foreign policy differs from his father's: