Testing Rules Drive Toymakers to Groveling, Rage, Despair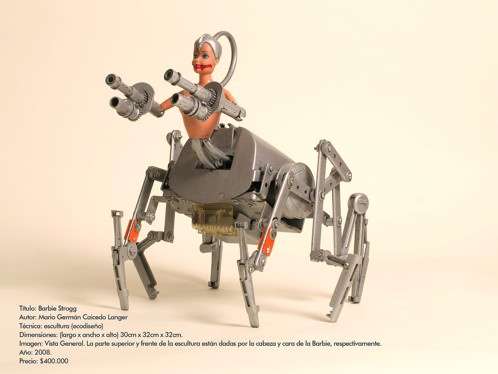 Remember the Consumer Product Safety Improvement Act? The law was passed in response to several toy recalls in 2007 for lead and other chemicals, and it requires third-party testing of nearly every object intended for a child's use. Six of those recalls were on toys made by Mattel, which quickly won an exception to the testing requirements, leaving small-scale makers of books, toys, and jewelry for kids to contend with expensive testing and labeling requirements largely irrelevant to the kind of products they produce. Years of delays in implementation and clarification have followed, and by now the affected toymakers have split into two camps.
This first email, which landed in my inbox earlier this week, exemplifies the conciliatory approach. The sad formal missive is a response by the Fashion Jewelry & Accessories Trade Association (FJATA) to the Consumer Product Safety Commission's (CPSC) staff report on cadmium in children's metal jewelry:
"We are pleased that the CPSC has reaffirmed its commitment to work with the FJATA and other stakeholders to finalize the ASTM children's jewelry safety standard in an expedited fashion. The ASTM children's jewelry standard will address, among other things, cadmium and we look forward to reviewing the data shared with us today. The CPSC has spent many months gathering data on cadmium and the FJATA will need time to review the agency's information….

As we have stated in the past, we have technical concerns regarding the validity and practicality of lengthy test times. We welcome the chance to continue our productive dialogue with CPSC to expeditiously finalize a national, science-based, peer reviewed, standard for children's jewelry that reflects our collective interest in ensuring the safety of our products."
This is pathetic, groveling accommodation to the new way of doing business—paired with the hope sufficient patience and niceness will eventually lead government bureaucrats to take pity and offer relief for their narrow cadmium-based plight. This strategy is actually the most reasonable approach, and it is much more likely to be effective than option two: Rage and despair, paired with empty threats:
Dear Friends, As you know, I have devoted considerable time, effort and money to opposing the terrible Consumer Product Safety "Improvement" Act of 2008 (CPSIA) for the past three years. Despite the massive accumulation of data documenting the failings of this law and its poisonous implementation, the CPSC and Congress refuse to listen or act to grant relief. Among other things, they persist in ignoring the deadly effects of this law on Small Business. I have concluded that this Congress will never help us—we need to FORCE change politically.
This second mail, from the folks at Amend the CPSIA, opts for a strategy of desperate refuge in the ballot box, hoping against hope that changing the composition of Congress will drive the repeal of a regulation that neither party has shown much interest in fixing. It sends readers to www.PollakForCongress.com, the campaign site of a man who would probably try (and fail) to fix these regulations if elected. This is not a good strategy, and the mail's author, Rick Woldenberg of the educational toy company Learning Resources, knows it. He notes that the new regulations "will jack up Learning Resources' annual compliance costs to $15 million, FAR in excess of our profits. We have no Plan B—so we are trying to get a new government."
Bad regulations like the CPSIA tend to make a splash in the media and then fade. But those headlines are just beginning for people who have to figure out how to live with bad new rules, likely in perpetuity.