With Ports Clogged, Some Retailers Are Looking for Alternative Supply Chains
Plus: Columbus Day vs. Indigenous Peoples Day, the Biden administration prepares to regulate cryptocurrencies by executive fiat, and more...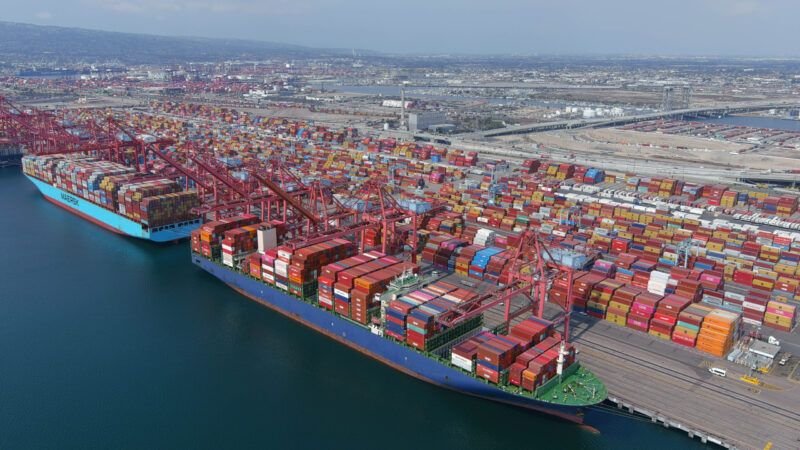 With ports clogged and supply chains snarled in advance of the holiday shopping season, some major U.S. retailers are taking unprecedented steps to get goods onto store shelves. That includes chartering their own cargo ships to import goods.
The Wall Street Journal reports that Walmart, Target, Costco, and Home Depot are among the major retailers to adopt the "if you want something done right, do it yourself" approach to importing goods. Worker shortages and COVID-19 protocols have slowed trans-Pacific shipping considerably—it now takes about 80 days to transport items from Asia to the U.S., about twice as long as it did before the pandemic, the Journal reports.
While some politicians are quick to blame the global system of trade for the ongoing supply chain issues America is experiencing, it's clear that many of the bottlenecks are domestic issues. For example, major ports in Europe and Asia operate around the clock, but American ports run at about 60 percent capacity because they close at night and on Sundays. Even when dozens of ships are waiting to be unloaded, inflexible union rules that govern dockworkers' and truckers' hours make it difficult to meet swelling demand.
By chartering smaller, private ships to carry their goods, retailers like Walmart are hoping to bypass the backlogs by landing at smaller ports up and down the east coast. That will cost more money—and those costs will be passed onto consumers—but that's better than running out of inventory during the Christmas rush. Home Depot, for example, is relying on chartered ships to deliver only a small percentage of its overall inventory with a focus on high-demand items like plumbing supplies, power tools, holiday decor, and heaters, the Journal reports.
Getting goods onshore is only half the battle. There are plenty of other bottlenecks to be navigated, like a 25-mile freight train backup that occurred at a major shipping facility outside Chicago earlier this year. At the port in Savannah, Georgia, The New York Times reports that workers are "running out of places to put things" as they unload ships, snarling both ground- and sea-based transportation.
Frustratingly, it isn't at all clear how long it will take to resolve what The Atlantic's Derek Thompson has deemed "the Everything Shortage":
The coronavirus pandemic has snarled global supply chains in several ways. Pandemic checks sent hundreds of billions of dollars to cabin-fevered Americans during a fallow period in the service sector. A lot of that cash has flowed to hard goods, especially home goods such as furniture and home-improvement materials. Many of these materials have to be imported from or travel through East Asia. But that region is dealing with the Delta variant, which has been considerably more deadly than previous iterations of the virus. Delta has caused several shutdowns at semiconductor factories across Asia just as demand for cars and electronics has started to pick up. As a result, these stops along the supply chain are slowing down at the very moment when Americans are demanding that they work in overdrive.
---
FREE MINDS
It's the second Monday of October, which means it's time to celebrate…America's most confusing quasi-national holiday. President Joe Biden issued a proclamation on Friday declaring October 11 to be Indigenous Peoples Day, which means the federal government will join dozens of cities and states in honoring the contributions of Native Americans today. Of course, federal workers will have the day off because October 11 is Columbus Day, at least according to the Office of Personnel Management.
Which is it? Why not…neither? Christopher Columbus is no hero—or, at least, he's not an American hero. Italian-American communities should be free to celebrate his legacy however they want, of course, but elevating him to the level of having his own federal holiday has always seemed more than a little weird. We force George Washington and Abraham Lincoln to share, but Columbus gets his own?
And while Native Americans have been undeniably given short shrift throughout American history, co-opting Columbus Day as a way to recognize the accomplishments of Native Americans is always going to be at least a little bit awkward—and hardly makes up for centuries of mistreatment by the United States.
Creating new federal holidays isn't a bad idea—Juneteenth, for example—and surely there is some other date or dates on the calendar that could become Indigenous Peoples Day (or weekend?) instead. And anyone upset about dropping Columbus from the rotation should look up the origins of the holiday: President Benjamin Harrison declared the first Columbus Day in an attempt to end violent discrimination against Italian immigrants. Federal holidays always have a political angle. But the only thing being accomplished by the current messiness is the creation of more grist for the culture war, which is the last thing America needs.
The federal bureaucrats should have to work today. National unity demands it.
---
FREE MARKETS
The Biden administration is considering an executive order that would include new regulations for cryptocurrencies and the appointment of a "crypto czar."
Bloomberg reports:
The proposed directive would charge federal agencies to study and offer recommendations on relevant areas of crypto—touching on financial regulation, economic innovation and national security, said the people, who asked not to be named discussing plans that are still under consideration.

The initiative will also aim to coordinate agencies' work on digital currencies throughout the executive branch, the people said. The plan would push departments that have given scant attention to crypto to focus on it.
---
QUICK HITS
• Southwest Airlines canceled thousands of flights over the weekend. The airline blamed air traffic control issues and a staffing shortage. Despite widespread speculation on social media that Southwest pilots were refusing to work due to the airline's vaccine mandate, the Southwest Airlines Pilots Association said there were no "official or unofficial job actions" taking place.
• A nuclear engineer in the U.S. Navy has been charged with trying to sell secret information about America's submarines to an unnamed foreign nation.
• Obama campaign whiz kid David Shor says Democrats are heading for a wipeout in 2024.
• Closing nuclear power plants has forced some places to rely on dirtier options to backstop renewable energy.
• Even oatmeal is getting more expensive.
• A profile in courage from Rep. Steve Scalise (R–La.):
Louisiana congressman Steve Scalise, who's also the Republican Whip in the U.S. House of Representatives, was asked 3 times if he believed the election was stolen from Donald Trump.

Scalise would not say yes or no.

The answer: It was not.

— David Begnaud (@DavidBegnaud) October 10, 2021
• Democrats threw lots of money at voters in the hopes of buying their loyalty. That doesn't seem to have worked.
• When Facebook and Instagram went down for several hours on October 4, traffic to Pornhub spiked.