55 Percent of Police Killings Are Misclassified as Other Causes of Death
Plus: Christian flag case coming to SCOTUS, Merck pill could treat COVID-19, a reversal on migrant expulsions, and more...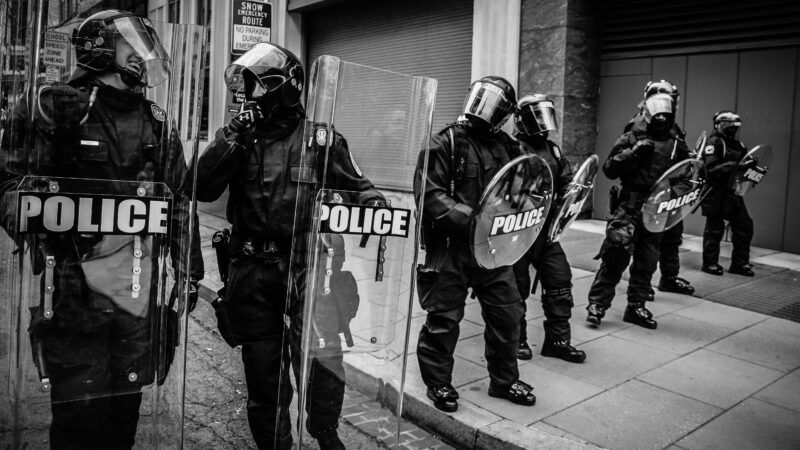 (Photo by Spenser Young on Unsplash )
More than half of police killings aren't labeled as such, according to new research published in The Lancet. The study looks at roughly 40 years of fatal police violence in the U.S. The main finding: Deaths caused by cops are severely underreported in official data.
To reach this conclusion, researchers compared statistics from the government's National Vital Statistics System (NVSS) with open-source databases from the nonprofit groups Fatal Encounters, Mapping Police Violence, and The Counted.
The NVSS data left off 55.5 percent "of all deaths attributable to police violence" between 1980 and 2018, the researchers found. Overall, "the misclassification of police violence in NVSS data is extensive."
A holistic look shows there were 30,800 deaths caused by police during these decades. "This represents 17,100 more deaths…than reported by the NVSS," they say.
To put that in perspective, they note that, in 2019, more U.S. men died from police violence (1140 deaths) than from environmental heat and cold exposure (931 deaths), testicular cancer (486 deaths), or sexually transmitted diseases (37 deaths).
Non-Hispanic black people were most likely to be killed by police. ("The police have disproportionately killed Black people at a rate of 3·5 times higher than White people, and have killed Hispanic and Indigenous people disproportionately as well," notes the paper.) Their deaths were also most likely to be missing from the official database.
"From 1980 to 2018, the greatest under-reporting of deaths was among non-Hispanic Black people, with 5670 deaths (5390–5970) missing out of an estimated 9540 total deaths (9260–9830)," they report. That's 59.5 percent misclassified. The misclassification rate for non-Hispanic white people in this same period was 56.1 percent. For Hispanic people (of any race) it was 50 percent, and for non-Hispanic people of races other than black or white, it was 32.6 percent.
The data suggest more police killings in recent years than in the early years of the study, (though whether this is a function of better tracking or increased violence is unclear). In the 1980s, the mortality rate from police violence was 0.25 per 100,000 people. In the 2010s, it was 0.34 per 100,000—an increase of 38.4 percent over the study period.
Oklahoma, Wyoming, Alabama, Louisiana, and Nebraska were the most likely states to underreport police killings. In Oklahoma, the misclassification rate was 83.7 percent, and in the other four top states, it was over 70 percent.
The states least likely to underreport police killings were Maryland, Utah, New Mexico, Massachusetts, and Oregon.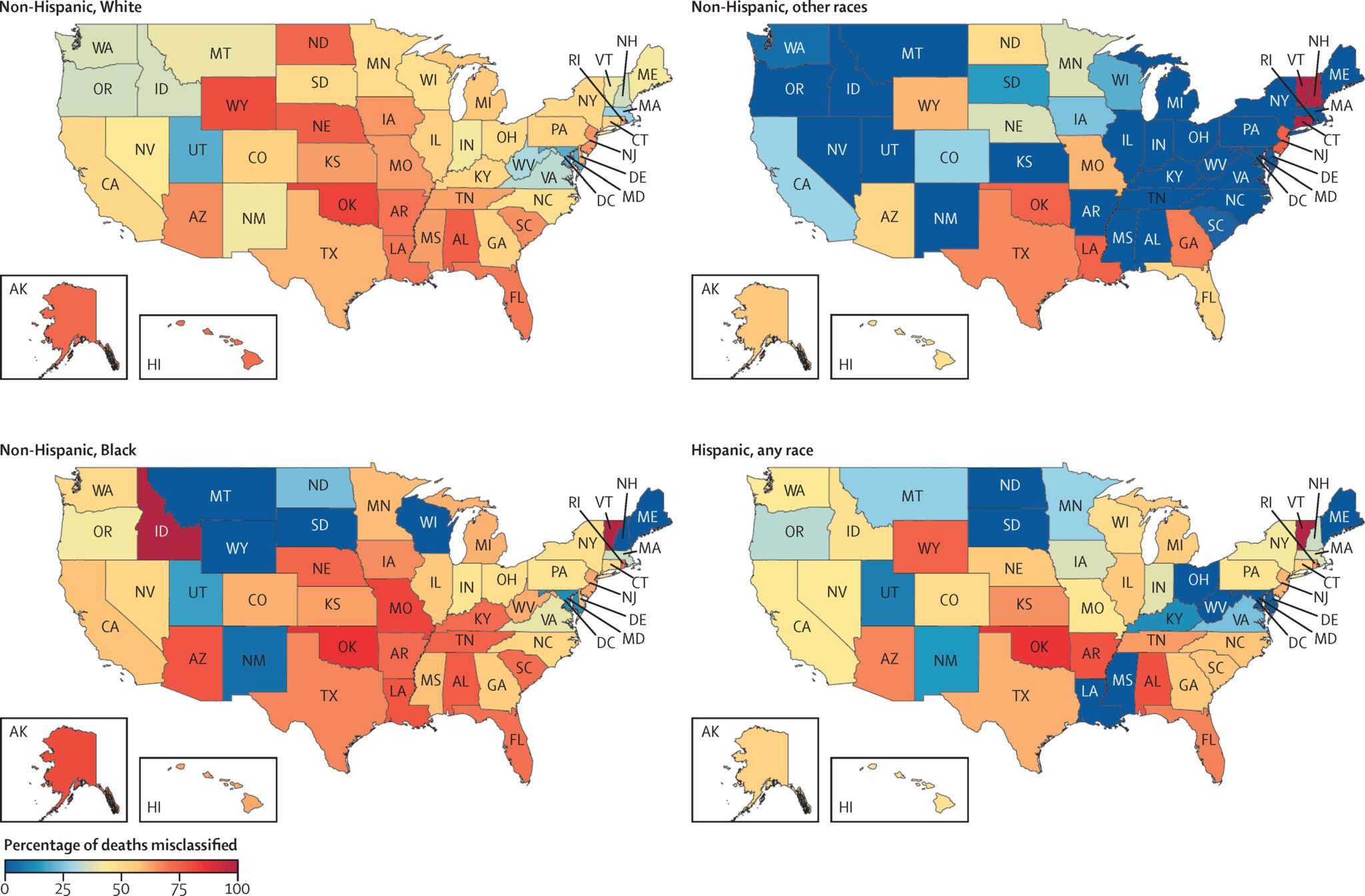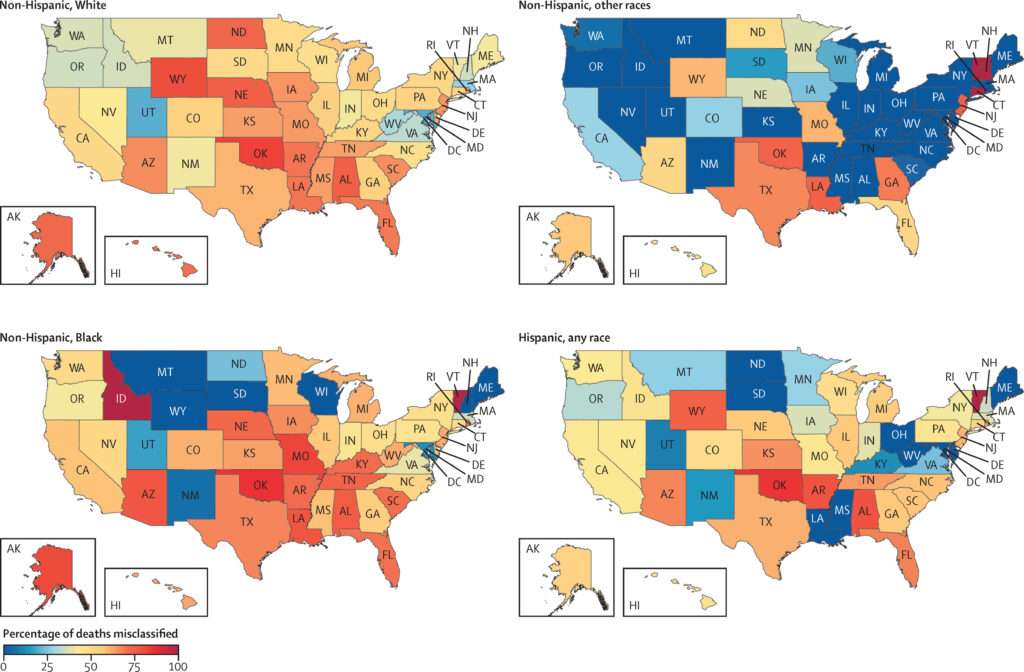 How does this happen?
"Physicians are typically responsible for filling out the cause of death section of the death certificate, but state laws require that a medical examiner or coroner do so for homicides or cases where there is suspicion of crime or foul play, including police violence," notes the Lancet paper. It goes on:
However, only some cities have forensic pathologists to act as the coroner, and in small, rural counties, the coroner can be a physician with no forensic training, the sheriff, or a mortician. The text fields of the cause of death section are filled out by the certifier; these responses are then translated into International Classification of Diseases (ICD) codes by software and nosologists using WHO's published code selection rules. According to these rules, deaths due to police violence should be classified under the legal intervention codes, which are defined as "injuries inflicted by the police or other law-enforcing agents, including military on duty, in the course of arresting or attempting to arrest lawbreakers, suppressing disturbances, maintaining order, and other legal action". In cases of police violence, many text fields contribute to the coding process, including the causal chain indicating the full sequence of events leading to death and the manner of death section. One text field is particularly crucial: a section that, in case of injury, asks the certifier to "describe how the injury occurred". If this section does not mention that the decedent was killed by the police, then the death will not be assigned to legal intervention.

Previous studies have documented that the death certification system regularly under-reports deaths due to legal intervention. The under-reporting is related to several factors, including the coroner or medical examiner failing to indicate police involvement in the text fields of the death certificate's cause of death section or errors in the process of assigning ICD codes even when the death certificate shows police involvement. There is considerable evidence that omission of police involvement from the description of how the injury occurred is responsible for the misclassification of police violence as homicides. A police violence death might be misclassified as another cause because the certifier fails to mention the police in the "describe how the injury occurred" section, or because the certificate is incorrectly coded after the fact. The "describe how the injury occurred" section is open-ended and comes with no explicit instructions to mention police involvementand a certifier might lack the knowledge or training to fill out the form correctly. There are also substantial conflicts of interest within the death investigation system that could disincentivise certifiers from indicating police involvement, including the fact that many medical examiners and coroners work for or are embedded within police departments.
---
FREE MINDS
Boston flag refusal spawns Supreme Court case concerning religious liberty and separation of church and state. The Boston City Hall sometimes allows flags from outside groups to be flown from one of its poles. But it rejected a flag from a Christian group called Camp Constitution. Is that allowed? The Supreme Court will decide. More from Politico:
The dispute involves the Christian group's desire to fly a white flag bearing a red cross over a blue square in the upper left corner from an 83-foot flagpole outside the seat of Boston's city government. Two of the three flagpoles at City Hall are used to fly the U.S. flag (along with a POW/MIA flag) and the Massachusetts state flag.

However, the City of Boston flag that customarily flies from the third flagpole has been lowered on numerous occasions and replaced with flags of various groups or causes, including gay pride, and foreign countries, including Albania, Italy, Portugal, Mexico, China, Cuba and Turkey. Some of those flags contain religious symbols.

The alternate flags flew on at least 284 occasions over the 12-year period, often in connection with events groups held at City Hall, according to the decision from the 1st Circuit Court of Appeals.

But city officials rejected the Christian group's flag on the basis it would appear to convey an endorsement of particular religious views.
The case could "provide an opportunity for the court's relatively new, six-justice conservative majority to expand the rights of religious groups and individuals to use public facilities to advance their views," suggests Politico.
---
FREE MARKETS
Molnupiravir first antiviral pill to treat COVID-19. Merck says it has developed a drug that cuts COVID-19 risks to those infected with the virus. It's seeking emergency authorization of the pill from the Food and Drug Administration. "At the interim analysis, molnupiravir reduced the risk of hospitalization or death by approximately 50%," said Merck in a statement. "7.3% of patients who received molnupiravir were either hospitalized or died through Day 29 following randomization (28/385), compared with 14.1% of placebo treated patients (53,377). Through Day 29, no deaths were reported in patients who received molnupiravir, as compared to 8 deaths in patients who received placebo."
---
FOLLOW-UP
Appeals court sides with Biden administration on coronavirus-based expulsions of migrants. In mid-September, a federal court ruled that the Biden administration couldn't use a public health rule known as Title 42 as an excuse to expel migrants without processing their asylum claims. On Thursday, the U.S. Court of Appeals for the D.C Circuit came to the opposite conclusion. "We will continue fighting to end this illegal policy," said American Civil Liberties Union attorney Lee Gelernt.
---
QUICK HITS
Justice.

In 1924, Manhattan Beach, CA, unjustly took black-owned Bruce's Beach—which catered to black beachgoers—through eminent domain.

The land now returns to descendant Anthony Bruce, whose great-great-grands Willa & Charles Bruce bought it in 1912.https://t.co/dMbEiUO89H

— Free Black Thought (@FreeBlckThought) September 30, 2021
• An investigation finds significant mismanagement of an FBI surveillance warrants program. "According to the new Justice Department inspector general report released Thursday, the subsequent investigation found 209 errors in a sample of 29 [Foreign Intelligence Surveillance Act] applications reviewed," reports The Hill.
• Up to 80,000 green cards expire today unless Congress acts. "Because of a quirk in immigration law, the government began its fiscal year last October with 120,000 more green cards than the 140,000 it typically hands out, a prospect that promised to put a meaningful dent in the backlog of eligible applicants," notes The Wall Street Journal. "But immigration authorities have been unable to process the windfall, exacerbating frustration felt by many of the 1.2 million immigrants—most of them from India and working in the tech sector—who have been sponsored for green cards and will continue working on temporary visas that limit their ability to change jobs or travel."
• An 18-year-old woman who was shot in the head by a school cop* in California is about to be taken off life support. The cop shot the woman while she was trying to leave school grounds after an alleged fight with a younger teenager.
• A federal court in Austin today will hear arguments in the Justice Department's challenge to the Texas abortion restrictions that took effect in September.
• No infrastructure vote yesterday: "The US House speaker, Nancy Pelosi, postponed a planned vote on a $1tn infrastructure bill on Thursday night in a stinging defeat for Democrats after progressives revolted, withholding their support until an agreement could be reached to enact the full sweep of Joe Biden's economic vision," reports The Guardian.
• The death of a newborn in Alabama is being described as "the first confirmed death from a ransomware attack," but it sounds more like a case of medical negligence.
• The A.V. Club calls Amazon's new robot, Astro, "a creepy, invasive, ever-watchful iPad with a cup holder welded to its ass."
---
*CORRECTION: This post previously misidentified the young woman shot by a school cop in California as a student of the school.