Arizona Officials Insist That Dragging Migrant Children is Not Cause for Concern
The Maricopa County Sheriff's Office reluctantly turned over footage of shelter employees dragging, slapping, and pushing migrant children.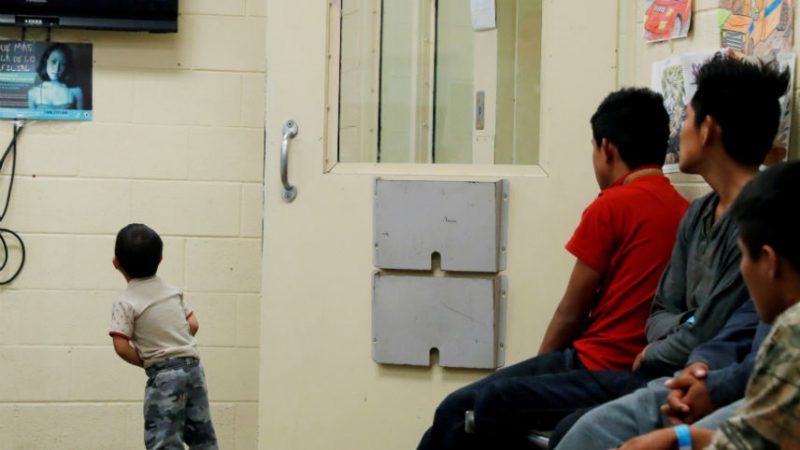 (LEAH MILLIS/REUTERS/Newscom)
Officials in Maricopa County, Arizona, appear unbothered after footage from a shelter captured vide of migrant children being trated poorly.
According to a report by The Arizona Republic, incidents involving three children and several employees led to the fall suspension of the shelter's operations by the federal Office of Refugee Resettlement. The newspaper released videos of employees dragging, slapping, and pushing children throughout the facility.
The compromising videos were obtained by sending an open records request to the Arizona Department of Health Services.
The Sheriff's Office maintains not only that the actions were acceptable restraint techniques, but that there was nothing in the footage that should bring about criminal charges. The state health department has not commenting on the videos.
Despite the lack of concern from local officials, the incidents have been referred to local prosecutors.
The deaths of two migrant children in federal custody this past month has drawn attention to the question of the conditions faced by migrants in custody. On Saturday, President Donald Trump tweeted that Democrats and their "pathetic immigration policies" were responsible for the deaths of children on the border:
Any deaths of children or others at the Border are strictly the fault of the Democrats and their pathetic immigration policies that allow people to make the long trek thinking they can enter our country illegally. They can't. If we had a Wall, they wouldn't even try! The two…..

— Donald J. Trump (@realDonaldTrump) December 29, 2018
In the wake of the first death, Department of Homeland Security officials claimed that the main takeaway should be their need for more resources to accommodate family detentions. Others, such as the American Civil Liberties Union, blamed the death on a lack of accountability and a "culture of cruelty" at U.S. Customs and Border Protection.
Though the number of illegal border crossings is at a 10-year low, DHS officials have repeatedly stated that the current facilities were designed for "male single adults" and struggle to meet the needs of family detentions.