Stormy Daniels Strips for Me and a Roomful of Journalists
...and reminds everyone that sometimes a strip show is just a strip show.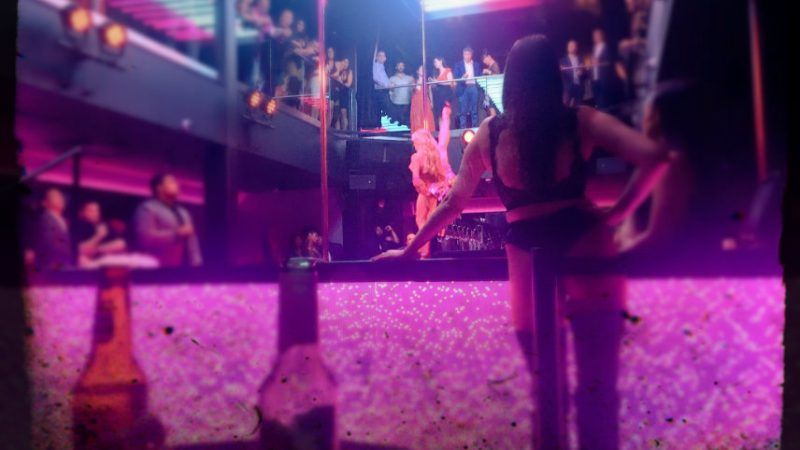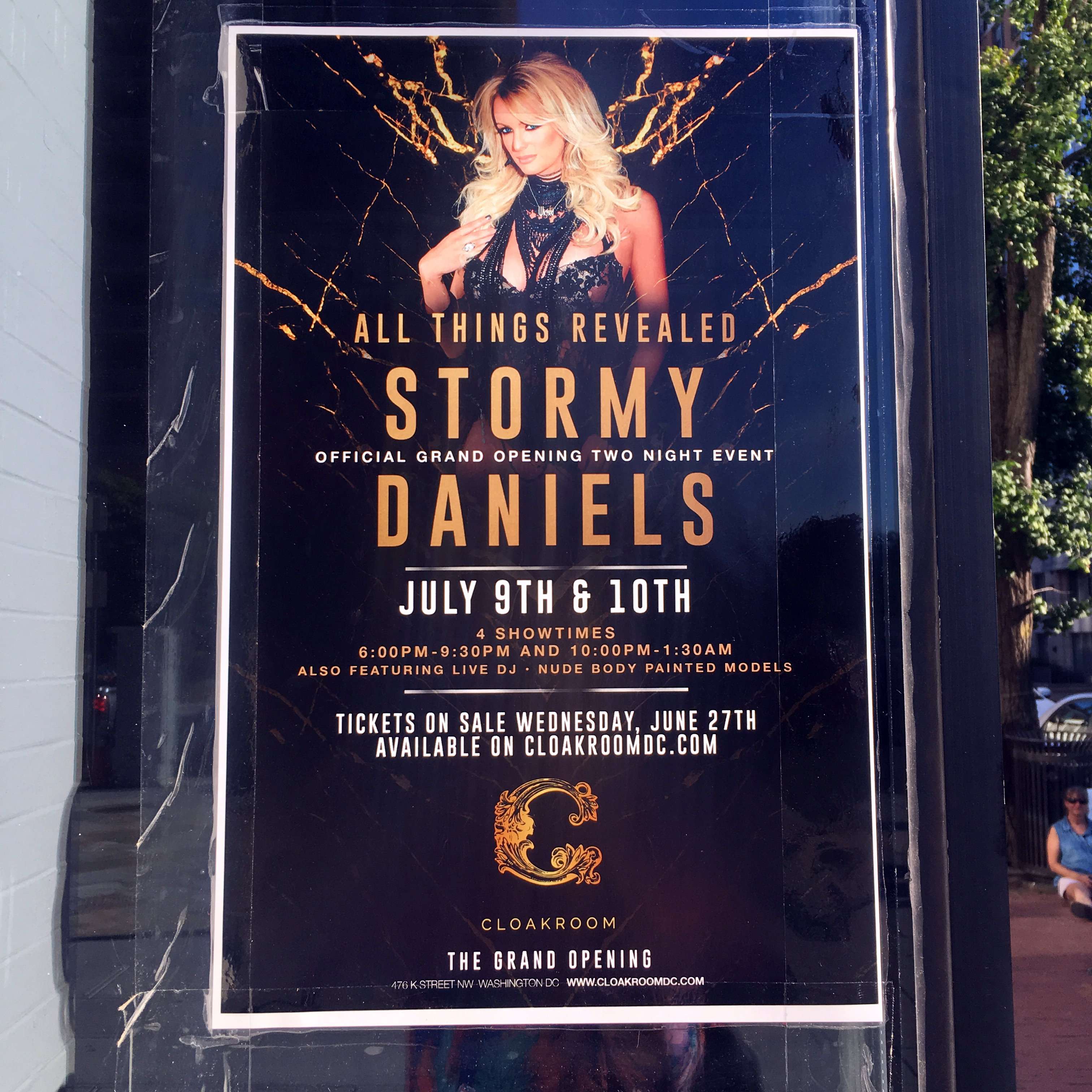 I'm at the downtown D.C. strip club where Stormy Daniels will soon perform, and everyone keeps congratulating me on my recent wedding. This is because the bulk of the early crowd here seems comprised of political reporters.
Daniels is scheduled to perform two more shows here on Tuesday night. While her previous performances were booked under the banner "Make America Horny Again," these D.C. shows are billed as "All Things Revealed"—an innovation, The Washingtonian reports, meant to reflect the venue's upscale vibe. But anyone who was hoping for something more than a standard striptease would be disappointed. Daniels three-song act is energetic, sexy, and fun, but also brief and devoid of any overt political content.
The rest of the three-and-a-half-hour affair is basically Cloakroom business-as-usual, save for the cadre of barstools taken up by people scribbling in notebooks and checking their phones for news about Donald Trump's Supreme Court pick.
"I keep trying to ask people why they're here," one of the them tells me toward the evening's start, "but everyone I approach ends up being a journalist."
It's only a slight exaggeration. Several groups of non-press guests dot the booths that flank the stage here at Cloakroom—an adult entertainment venue notable for the time the ground literally opened up and swallowed it whole, back in 2014. But it'll be at least another hour before the club starts to feel less like an especially awkward press conference.
I showed up around 6:30 to catch the first show, then spent the next hour drinking beer at the bar and watching the club's regular dancers do their sets. One or two at a time they take the stage, equipped with two poles that stretch about 20 feet in the air. One woman shimmies to the very top, writhes around gracefully, then slides swiftly back down, straight into the splits. Polite clapping reverberates.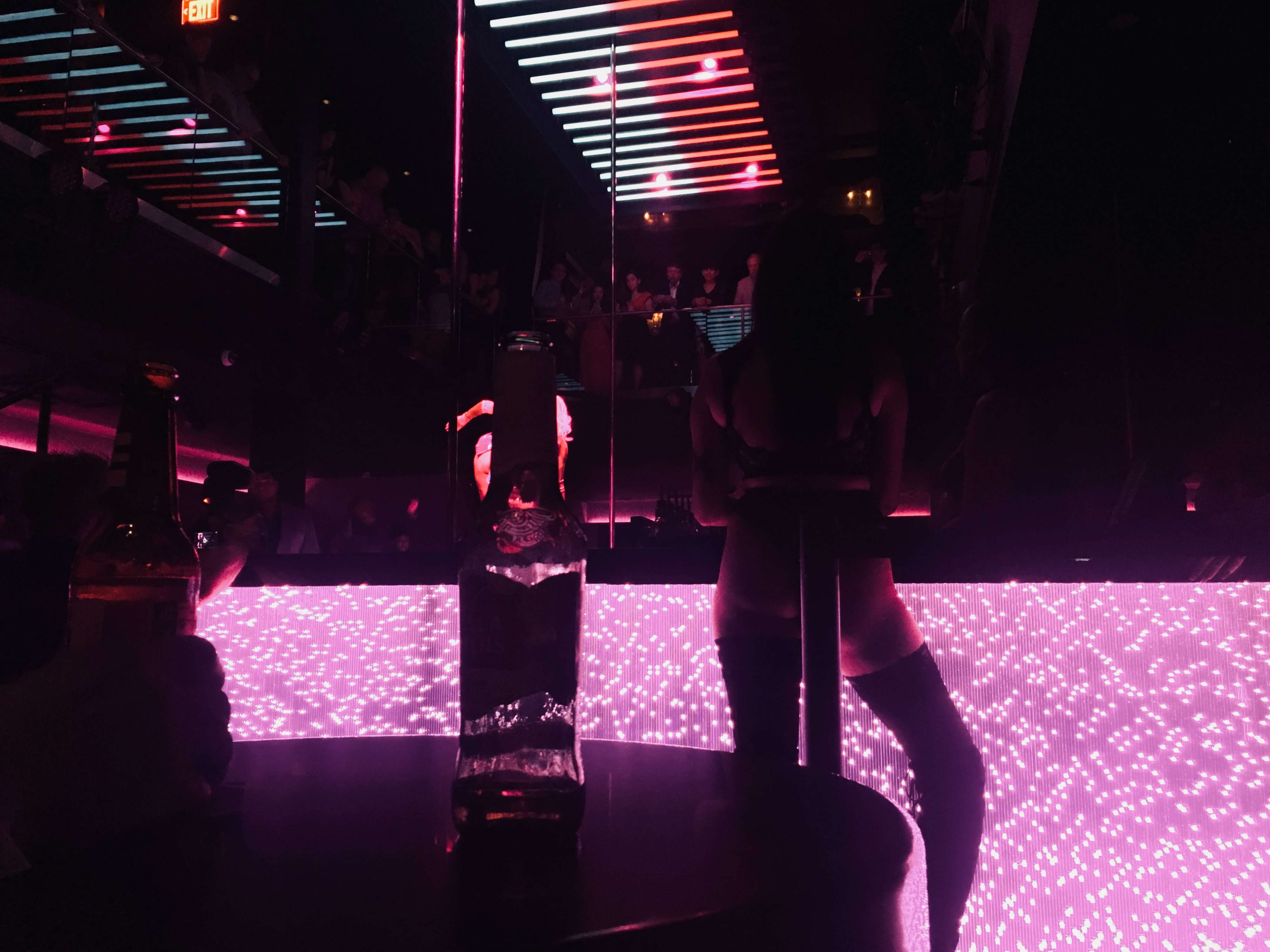 Cloakroom has added a few special touches for tonight, including $3,500 VIP balcony boxes (at least a couple seem full by the end of the show) and women walking around in elaborate body paint. One of them is covered in words, including Stormy, Trump, love, and hate, but the rest of the paint jobs are apolitical. They do periodic laps around the room and then settle into a booth back by the restrooms.
I step outside a little before eight, just in time to see Daniels exiting a car with her entourage, wearing a striped sundress, her hair still undone. A handful of camera operators and reporters who had been laying in wait descend but no avail: Stormy slips into the club without so much as a word. I go across the street to get a cheeseburger.
When I return, the place has finally started to fill up. It's mostly an older crowd. Everyone talks in subdued tones. The music is played at a very reasonable level. There's a man dressed in some sort of flamboyant '70s movie-pimp clothes and there's the odd handlebar mustache, but overall the spectator vibe is very office-park brewery—a sea of middle-aged dads and indeterminate-age women in jewel-toned sheath dresses. A lot of people look a little uncomfortable.
When a young woman in a prissy pink skirt flounces in on the arm of a man with hip glasses, reporters click open their pens. "We must be very interesting," the woman—a little slurry, a little disdainful—tells me after the show. "Everyone wanted to talk to us." But they are not very interesting. They are simply the recipients of everyone's last grasping for reportorial "color."
A little before nine, an announcer tells us that it's "about to get Storrrrmmmmy." People rush to take their seats or get a spot by the stage. "Hey, Big Spender" starts to play and Daniels sashays out from the back in a shimmery pink number that recalls Marilyn Monroe's Gentleman Prefer Blondes attire. She does a lap around the place first, making people's acquaintance—Daily Beast reporter Will Sommer was among those who were grabbed and welcomed to her bosom—and vamping it up. At a front-row table where a nice man has offered me a seat, Daniels presses his head to her chest and then pushes it back, propping up her leg and holding up her garter. He is fumbling to find his money, and I so beat him to it, slipping a few dollars into her garter belt first. She plays it up, giving the man disapproving look until he gleefully flings a fistful of dollars at her.
The confidence and likability Daniels has displayed in recent interviews—most notably on 60 Minutes in March—are on full display as she works the room and the stage. The theatrical element is her performance's strong suit. There are no mystical feats of pole-trick daring in Daniels' set, nothing too complicated, XXX-rated, or extraordinary in her moves.
But she fucking sells it. She has the sort of showmanship that makes it look like she's having a ball, and a style more vintage va-va-voom than vulgar.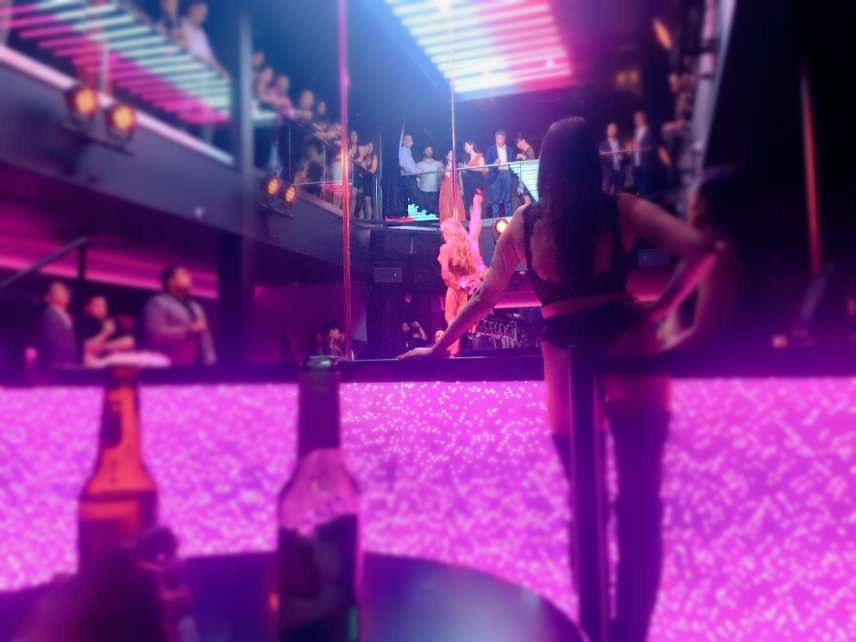 The crowd responds to Daniels' energy in kind. Song two is a "Diamonds are a Girl's Best Friend"/"Material Girl" medley. Everyone is on their feet, flanking the stage, shouting, throwing dollar bills. Daniels flings one of her gloves to the audience. During the set, a man with a big janitor-style broom sweeps the money across the stage into a big laundry bin to clear a path for her to dance. More clothes come off. The music switches to something slow and sultry.
And then it is over. Daniels exits. The man with the broom keeps pushing money off the stage. People begin heading for the door.
The young woman with the amazing pole skills comes back on just as it's announced that Daniels will be posing for pictures in the hall. That leaves the room practically empty as she shimmies to the tippy top of the pole again, spins around, lands in the splits. I leave all the cash I have left on the stage for her, exiting the club to the sounds of folks jostling for Daniels' attention, autographs, answers.
Outside, a few reporters are still lurking, hoping to catch another glimpse of Daniels, murmuring about Brett Kavanaugh…