Tennessee Deputy Charged After Videos Show Him Tasing Teen Tied to Chair
In one surveillance video, the victim is tased four times for a total of 50 seconds.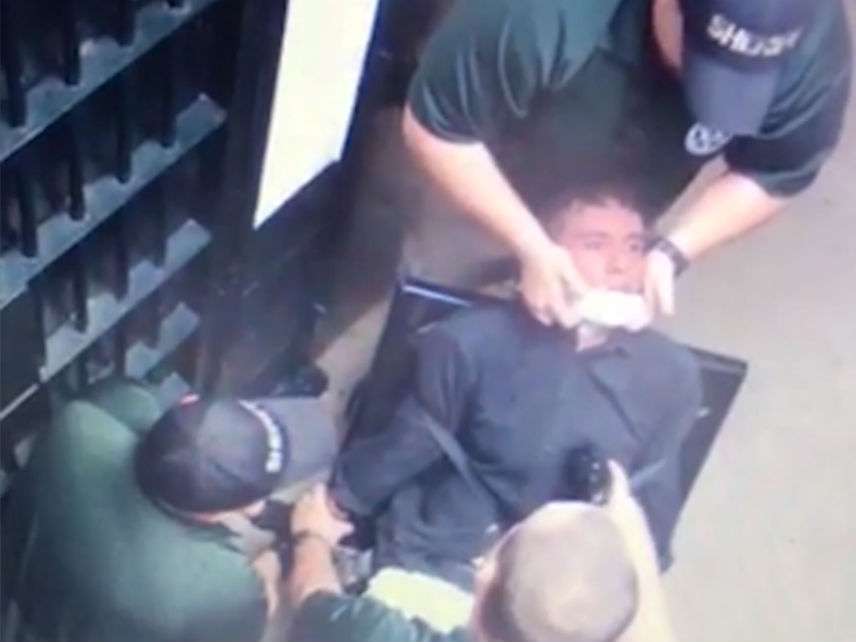 Two Tennessee sheriff's deputies face federal charges in connection with a 2016 incident, captured on surveillance videos, in which they used a stun gun on a teenager tied to chair at the Cheatham County jail. In one video, he is tased four times for a total of 50 seconds.
Jordan Elias Norris, who was 18 at the time, was arrested in November 2016 for marijuana and drug paraphernalia possession, weapon possession, and theft under $500. According to a lawsuit he filed in 2017, Norris suffered more than 40 pairs of Taser burns. "I'll keep on doing that until I run out of batteries," Cpl. Mark Bryant allegedly told Norris. Bryant and two other deputies were placed on leave after the incident, which was referred to the Tennessee Bureau of Investigation (TBI).
On Tuesday, Don Cochran, the U.S. attorney for the Middle District of Tennessee, announced indictments against Bryant and Sgt. Gary Ola. Bryant is charged with deprivation of rights and obstruction of justice. If convicted, he faces up to 10 years in prison on the first charge and up to 20 years on the second. Ola is charged with making false statements to the TBI and the FBI. If convicted, Ola faces up to five years in prison. Ola was still employed with the Cheatham County Sheriff's Office when the charges were announced. Both men were arrested on Tuesday. The other two deputies initially placed on leave were not listed. Ola became involved later during the investigation.
"They abused him and they tortured him, and then lied about it," Norris' stepfather, Tony Chapman, said yesterday. When he first saw his stepson's burns, Chapman told reporters, he sided with the deputies, assuming Norris was fighting back. His perception changed after he saw the surveillance videos.
Chapman suspects the officers' actions contributed to his son's death. Norris, who dropped his lawsuit after receiving a settlement, died in March at the age of 19. An autopsy found that he died from a suspected overdose. But Chapman notes that the autopsy also found damage to the right ventricle of Norris' heart, which may have been a factor in his death.
"We're talking about a young, healthy 18-year-old when these tasings happened," he said. "Absolutely no doubt in my mind that this tasing incident damaged his heart."
A 2017 report from Reuters documented fatal Taser abuse behind bars:
Reuters identified 104 deaths involving Tasers behind bars, nearly all since 2000—10 percent of a larger universe of more than 1,000 fatal law enforcement encounters in which the weapons were used. Some of the in-custody deaths were deemed "multi-factorial," with no distinct cause, and some were attributed to pre-existing health problems. But the Taser was listed as a cause or contributing factor in more than a quarter of the 84 inmate deaths in which the news agency obtained autopsy findings.
Like Norris, more than two-thirds of the inmates in the cases that Reuters reviewed were immobilized by officers before they were tased. Only two of the inmates were armed.