Denver Contradicts Itself by Targeting Previously Tolerated Cannabis Tour Buses
The rolling lounges are one of the few options for visitors who want to use marijuana but can't find pot-friendly lodging.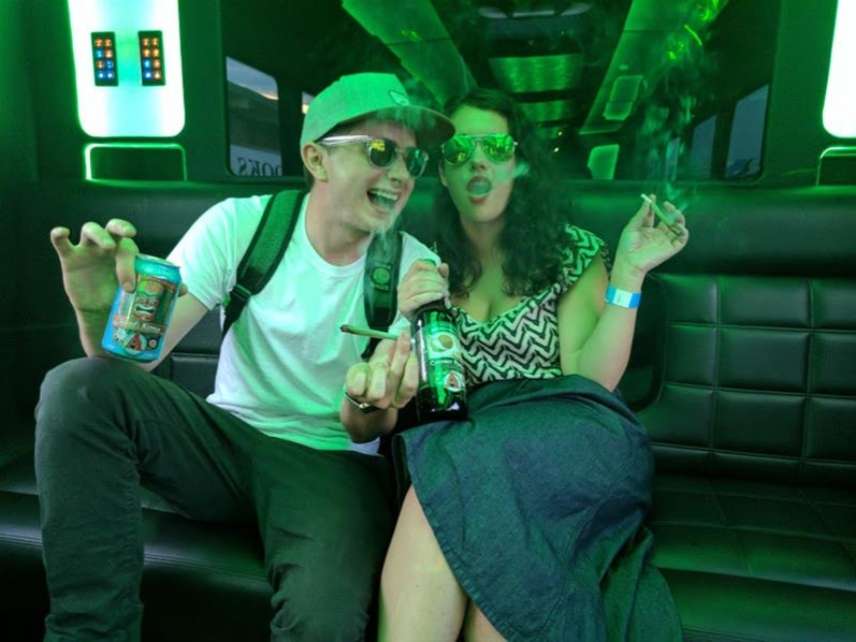 Visitors to Denver can legally buy marijuana products from 200 or so state-licensed retailers, but they can legally enjoy their purchases almost nowhere. Now the city seems to be cracking down on one of the few options available to cannabis consumers who don't have homes in Denver and can't find pot-friendly lodging. Last week, as part of an undercover investigation, Denver police ticketed riders on buses operated by My 420 Tours and Colorado Cannabis Tours for illegal public consumption of marijuana.
Denverite's Andrew Kenney reports that police cited 31 employees and customers on Friday for using marijuana on those outfits' buses, which take people on tours of pot shops, grow operations, and other sites of interest to cannabis consumers. "Our policy is to enforce the laws that are currently in place," a Denver Police Department spokesman wrote in an email to Kenney. "Consuming marijuana in public is illegal, and that is why officers cited the people consuming marijuana illegally."
Consuming marijuana "openly and publicly" is a petty offense under state law, punishable by a maximum fine of $100 and up to 24 hours of community service. Denver interprets that law as prohibiting marijuana use in any business that is "open or accessible to the public," and it does not tolerate members-only cannabis clubs. Under a local ballot initiative approved by voters in 2016, the city is beginning to experiment with strictly regulated "cannabis consumption establishments," but so far only one such license has been issued.
Cannabis consumption on a private tour bus would seem to be neither public nor open, and last week's arrests contradict the tour operators' understanding of the law as well as official advice about Denver's restrictions on marijuana use. According to Colorado.gov, "it is illegal for drivers and front-seat passengers to use marijuana in vehicles designed for private, for-hire transportation in Denver," but "if the private, for-hire transportation operator allows for it, marijuana may be consumed in the rear passenger area." The city's own website offers the same guidance. That exception is the basis for the business model adopted by My 420 Tours and Colorado Cannabis Tours as well as competitors such as Loopr and Mile High Limo Tours, which have been operating in Denver without legal trouble for years.
I've asked the Denver Police Department about the contradiction and will update this post if and when I receive an answer. The mass citation of cannabis bus riders came less than two weeks after Colorado Gov. John Hickenlooper vetoed a bill that would have let specially licensed marijuana merchants create "tasting rooms" where customers could sample their wares.
Like Hickenlooper, Denver officials misread the phrase "openly and publicly" to mean "openly or publicly," and they understand public as including any private business that is open to the public. This reading is not only implausible but arguably unconstitutional. Amendment 64, the 2012 ballot initiative that legalized marijuana for recreational use, is now part of the state constitution, and it rules out penalties for marijuana use by adults unless it is "conducted openly and publicly or in a manner that endangers others."