NYPD Union Rep Complains That He's Increasingly Afraid to Arrest People for No Good Reason
Can't bust some guy for smoking a joint on the stairs. What's the world coming to?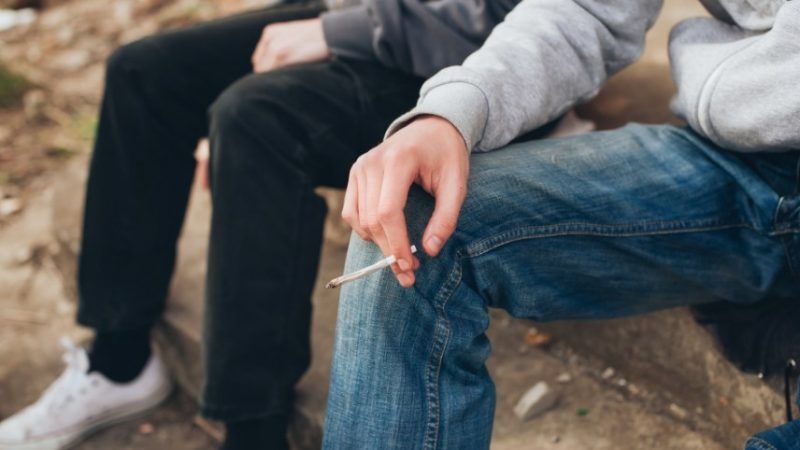 (Guruxox / Dreamstime.com)
So here's whoever's manning the official account of a New York Police Department union complaining in a comically misworded tweet that he's afraid to arrest a random guy who isn't doing anything wrong:
Now @ Penn Station a man is on the steps as hundreds of people pass smoking marijuana. With over 20 years as a cop I wondered should I arrest him, what if he's illegal, will I get in trouble if he resist, oh Community policing? Will the NYPD back me? NOT! So I justed walked away. pic.twitter.com/B9Ty0tRpMG

— SBA (@SBANYPD) May 18, 2018
This was on the official account of the Sergeants Benevolent Association (SBA), headed by Ed Mullins. The borderline-incoherent typos are a recurring theme with the group's Twitter feed.
To attempt to clarify, the tweet appears to be complaining about the one guy smoking marijuana while sitting on the steps, and does not intend to state that hundreds of people passing by are also smoking marijuana, even if that's how it reads.
The cop is not suggesting that the man is doing anything to harm anybody other than smoking marijuana. He is complaining that the smoker might be in the country illegally (what does that have to do with anything?), and he is concerned that a cop could get into trouble if the guy resists arrest. He doesn't seem interested in asking the man to move so that he's not blocking the stairs. To the SBA, apparently, the only two policing options are to arrest or totally walk away.
I guess this must be the SBA's response to the news that the New York City Mayor Bill de Blasio will "reform" how the city enforces marijuana laws and to Manhattan District Attorney Cyrus Vance Jr.'s announcement that his office will decline to prosecute marijuana possession and smoking cases.
Today the New York Daily News reports that de Blasio is going to order the New York Police Department to stop arresting people for smoking marijuana in public as the city prepares for the increasing likelihood that the state will legalize recreational marijuana soon.
Those announcements came on the heels of a New York Times report last week that showed minorities are far more likely to be busted for marijuana possession than whites. This was not a matter of there being more open marijuana use in parts of the city with higher percentages of minorities. The story compared the rates of complaints to the police about public marijuana use in predominantly white and predominantly minority communities; even when the rate of complaints were similar, arrests were far more likely in minority neighborhoods.
Even after the state decriminalized personal possession of marijuana to a citable offense, New York cops continued for years to arrest people for possession. The numbers have finally started to fall as the police started treating decriminalization seriously: The city's total plunged from 50,000 arrests in 2011 to about 17,000 in 2017. Yet this reduction has not caused a crime wave. Frankly, this SBA cop should be grateful he doesn't have to spend his time arresting this harmless gentleman and can focus on responding to criminal complaints that involve injury to others or their property.
But then again, this is the same union Twitter account that recently had a public freakout at the very suggestion that the Fourth Amendment of the Constitution required police to get a warrant to legally search a person.