The Scoop on 'Frozen Dessert' Licenses
You got a permit for that ice cream machine?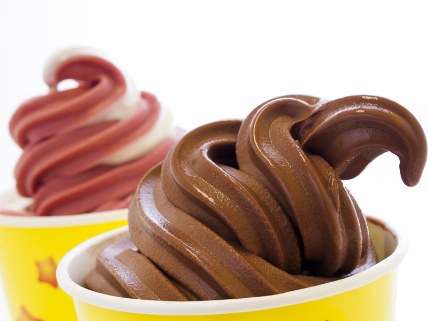 Among a series of cuts Rhode Island lawmakers are considering to the state's litany of excessive regulations, one would seem to be rife for elimination before the start of summer: the state's bizarre license for selling "frozen desserts."
The Rhode Island law requires "any restaurant, supermarket, amusement park, snack bar or clam shack selling processed ice cream or frozen yogurt from a machine needs the annual license in addition to any other permits to sell food or beverages," reports the Providence Journal.
The license is stupid and redundant.
"The $160-a-year 'frozen dessert' processor license isn't breaking the bank for most restaurateurs, but 'it's a nuisance because they're already paying a license fee to be a restaurant,' said state Rep. Deborah Ruggiero, a Jamestown Democrat and chairwoman of a small business committee in the state House of Representatives," the Associated Press reported this week, in a story on the state's efforts to repeal the fifty-five-year-old tax. "You can start killing businesses with a thousand paper cuts of a fee here and a fee there."
Kudos to Ruggiero. But why does this license exist? Simply to raise money for the state? Because the thought of already licensed restaurants serving ice cream without paying for an additional frozen-dessert license send chills down some busybody's spine? Is there some hidden protectionist angle? It's a question as perplexing as then-R.E.M. frontman Michael Stipe's guest turn as ice-cream hawker Capt. Scrummy on the mid-90s series The Adventures of Pete & Pete.
The Associated Press story doesn't answer that question, though it does note that soft-serve ice cream machines can be "hard to keep clean," which suggests a food-safety rationale behind the law. But the AP provides a sensible rebuttal to that rationale from a person forced to pay the annual license fee, Jack Piemonte, Jr., whose family owns Cap'n Jack's Restaurant in Providence, who says the license his family already pays for the privilege of operating the restaurant should be sufficient to cover inspection of its soft-serve operations.
The AP also notes Rhode Island is an outlier only insofar as the state is looking to repeal such a law. Surprisingly—or perhaps not—Rhode Island isn't the only state to have a frozen dessert licensing requirement. The AP, citing state officials, says Pennsylvania charges a $35 annual fee, for example, while Connecticut's fee is $50.
I've come across some rather strange caselaw pertaining to frozen desserts. For example, a 1952 Massachusetts case, Chamberland v. Selectmen of Middleborough, centered on the denial of a license to manufacture frozen desserts in the town. The ruling—in favor of the would-be ice-cream manufacturer, reports "the application was refused for the sole reason that the conduct of the business at that location would constitute a traffic hazard."
A 1956 New York State case that centered on "proper [state] standards for the manufacture of 'French Ice Cream,'" New York v. Blue Ribbon Ice Cream Co., also concerns, in part, a conflict between a state license issued to a frozen dessert maker in New York City and a city law "precluding the manufacture of frozen desserts in the cellar of any premises in the City of New York."
While neither the Massachusetts law nor the set of cases from the 1950s is terribly helpful in providing the basis for frozen-dessert licenses, other evidence bolsters the case suggested in the AP piece—that these rules have some food-safety basis.
The purpose of Pennsylvania's 1965 "frozen dessert law" is to protect "the public health, and to prevent fraud and deception in the manufacture, sale, offering for sale, exposing for sale, and possession with intent to sell, of adulterated or deleterious frozen desserts[.]"
In 2012, Nancy Driggs, a Republican who ran unsuccessfully for Rhode Island state representative, wrote an op-ed lamenting the recent perpetuation of licensing requirements in the state budget. Among the licensing fees Driggs attacked: a new "$550 fee for in-state wholesalers of frozen desserts[.]"
The current push to repeal the state's license requirements for frozen desserts are "part of a broader effort by Rhode Island officials to cull through thousands of pages of regulations and cut out some that businesses find most bothersome," the AP reported this week. That sounds like quite a frozen treat.