Las Vegas Taxi Union Demands State Crack Down on Competition from Ridesharing Apps
Wants rides hailed by apps at least 10 minutes in advance and a slew of new taxes and other regulations.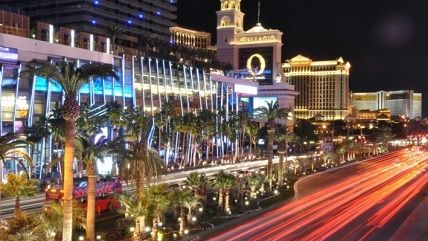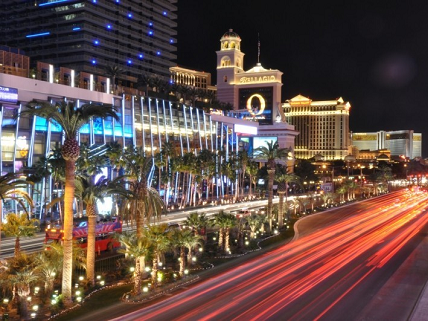 A Las Vegas taxi union is asking the state to step in and squash competition from ridesharing services like Uber and Lyft and "illegal" drivers who were "taking food out of the mouths of" taxi drivers, as Theatla Jones, a representative of Local 4873 of the Industrial Technical Professional Employees Union, wrote in a letter to legislators obtained by The Nevada Independent.
"Working in the Las Vegas taxi industry was traditionally a solid job where a driver could support his family and enjoy benefits such as health insurance, dental/vision care, retirement benefits, vacation pay, and safety bonuses, but those days are gone unless we secure your help," Jones wrote to legislators. Taxi drivers "desperately need your help to survive due to unfair competition from and lack of regulation
Jones offered sixteen proposals and The Independent reports that one Democratic state senator says he's planning to introduce legislation Monday that incorporates some of them. Jones' proposals include "public safety" measures like FBI background checks, drug testing, and 24-7 commercial insurance, some of which most ridesharing services already do. "Taxi drivers have reported that they recognize [ride-share] drivers who have been terminated from taxi companies due to drug and or alcohol issues," Jones adds.
She claims that ride-share app drivers perform "cash runs" on the Vegas Strip and that taxi drivers said there was "a huge problem with vehicles that are not even 'real' Uber and Lyft" drivers. "All a driver needs," Jones continued, "is a small U or Lyft sticker in their window and they can start transporting passengers for cash." So-called "gypsy cabs" are not a new phenomenon and it's hard to imagine confusing a ride arranged on a smartphone app and one arranged on the street for cash.
Jones also wants rideshare drivers to be "trained to deal with 'Strip road conditions'" and to let the Taxi Authority enforce rules she claims the Nevada Transportation Authority doesn't have the resources to. She also offers proposals for taxes, including that the state demand state-issued decals with "full permitting and registration with tax authorities," enforcing fines for "off-APP trips," and forcing "Uber and Lyft to keep drivers off platform unless taxes paid."
Jones further offered proposals under the guise of "consumer/labor protection" to constrict the use of ridesharing apps, including that all trips be hailed "a minimum of 10 minutes in advance" and no surge pricing as well as "no excessively low or predatory pricing permitted from the" ride-sharing service.
Jones complains that ride-share drivers don't go to residential areas and "will often only come to your house if he/she can surge price you for several times the normal fare," a total misunderstanding of how surge pricing works. "The free market will not solve this problem," she says, of a problem of lack of access to taxis in residential urban areas that services like Uber have helped solve in recent years by connecting would-be drivers to underserved residents.
"You and the Democratic Party are in a position to help my members this session," Jones closed, "and I respectfully request your help to support my member's full time jobs." The Independent notes taxi companies gave 50 state legislators $476,200 in the 2016 election cycle. Jones is doing what cartels all over do, looking to government to maintain crumbling monopolies. Taxi drivers and companies would be better off competing for customers and drivers than looking toward more of the kind of needless and constricting regulations even the union admits the state doesn't have resources to effectively enforce.