North Dakota Becomes the 27th Medical Marijuana State
A measure letting patients use cannabis for symptom relief passes by a surprisingly wide margin.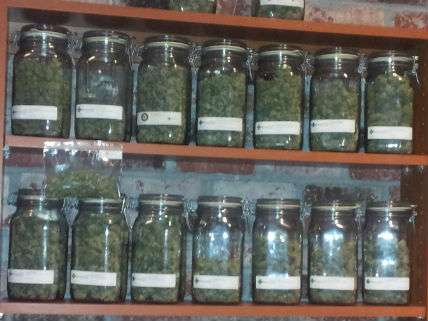 Today voters in North Dakota approved a ballot initiative that allows medical use of marijuana, raising the number of states with such laws to 27. With more than 60 percent of precincts reporting, Initiated Statutory Measure 5 was favored by 64 percent of voters.
Measure 5 allows the use of marijuana for treatment of specified "debilitating medical conditions" and others added by the North Dakota Department of Health. It authorizes production and distribution of medical marijuana by state-registered, nonprofit "compassion centers." The initiative allows patients located more than 40 miles from the nearest licensed supplier to grow up to eight plants in "an enclosed, locked facility."
Before today's vote, the most recent relevant polling in North Dakota came from 2014, when a survey of likely voters found that 47 percent thought marijuana should be legal for medical use.
"Measure 5 is going to improve the quality of life for many North Dakotans," said Anita Morgan of North Dakota Compassionate Care, the committee that promoted the initiative. "There is no longer any doubt that cannabis is effective in the treatment of several debilitating medical conditions. It can alleviate the nausea that cancer patients experience as they undergo chemotherapy. It can dramatically reduce or even eliminate seizures in patients suffering from epilepsy. And it can serve as a much safer alternative to prescription drugs that are often prescribed to patients who are dealing with severe and chronic pain."