Supreme Court to Weigh 'Malicious Prosecution' and the 4th Amendment
SCOTUS will hear oral arguments this week in Manuel v. City of Joliet.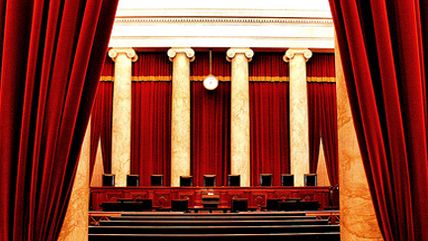 On March 18, 2011, an Illinois man named Elijah Manuel was asleep in the passenger seat of his car while his brother was driving when their vehicle was stopped by Joliet police for allegedly failing to signal. Here is how the U.S. Court of Appeals for the 7th Circuit summarized Manuel's allegations about what happened next:
A police officer detected an odor of burnt cannabis from inside the car. Without warning, the officer flung open the passenger's door and dragged Manuel out. The officer pushed Manuel to the ground, handcuffed him, and then punched and kicked him. The officer then patted down Manuel, and in one pocket found a bottle of pills. The pills were then tested by officers who had arrived at the scene, and these officers falsified the results to show that the pills were ecstasy. Based on these results, Manuel was arrested. In grand jury proceedings on March 31, the police continued to lie about the test results.
On April 1 the Illinois State Police Laboratory confirmed that the pills did not contain ecstasy; the lab further confirmed that the pills did not contain any other controlled substances. Yet the state's attorney's office was apparently not informed about the those test results because Manuel continued to remain incarcerated and then, on April 8, he was arraigned on felony drug charges. It was not until May 4, in response to a request from Manuel's public defender seeking the results of any such lab tests, that the prosecution finally moved to dismiss all charges. After spending 48 days in jail based on bogus accusations about non-existent illegal drugs, Manuel was finally set free on May 5.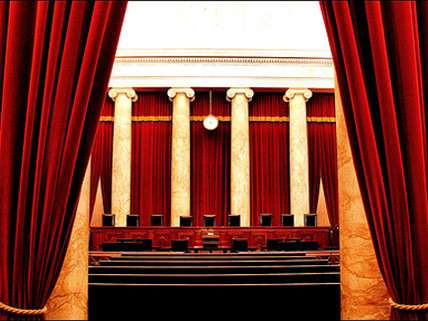 This Wednesday the U.S. Supreme Court will hear oral arguments in a case arising from Manuel's ordeal. At issue in Manuel v. City of Joliet is whether a federal "malicious prosecution" claim filed by Manuel is recognizable under the Fourth Amendment.
Manuel filed suit in April 2013 against multiple Joliet officers, as well as against the city, charging them with malicious prosecution and illegal pretrial detention in violation of his Fourth Amendment rights. Specifically, Manuel filed suit under Section 1983 of Title 42 of the U.S. Code, which provides a federal cause of action against any state or local official, including a police officer, who "subjects, or causes to be subjected, any citizen of the United States or other person within the jurisdiction thereof to the deprivation of any rights, privileges, or immunities secured by the Constitution and laws."
Unfortunately for Manuel, his federal suit was rejected by the U.S. Court of Appeals for the 7th Circuit. In December 2015 that court ruled against Manuel on the grounds that "federal claims of malicious prosecution are founded on the right to due process, not the Fourth Amendment." Furthermore, "there is no malicious prosecution claim under federal law if, as here, state law provides a similar cause of action." In short, the 7th Circuit slammed the federal courthouse doors in Manuel's face.
This week's oral arguments at the U.S. Supreme Court will focus on whether or not the 7th Circuit got it right.
There is good reason to think that the 7th Circuit got it wrong. For starters, that court is an outlier on this issue. Nine other federal appellate courts have ruled that malicious prosecution claims are recognizable under the Fourth Amendment. As the U.S. Court of Appeals for the 10th Circuit noted in Becker v. Kroll (2007), "We have repeatedly recognized in this circuit that, at least prior to trial, the relevant constitutional underpinning for a claim of malicious prosecution under [Section 1983] must be 'the Fourth Amendment's right to be free from unreasonable seizures.'" Had Elijah Manuel been detained in the 10th Circuit, or in any one of eight other federal appellate jurisdictions, his malicious prosecution claims could now move forward in federal court.
Furthermore, it makes little sense to say that the Fourth Amendment was not implicated in Manuel's pretrial detention. He was arrested, indicted by a grand jury, arraigned, and incarcerated based on trumped-up charges that were ultimately dropped. He spent over a month behind bars after being arraigned on drug charges that the Illinois State Police Laboratory knew for a fact to be baseless. Put differently, Manuel was detained at length without probable cause, a classic Fourth Amendment violation. Indeed, as Manuel and his lawyers observe in their main brief to the Supreme Court, "where, as here, officers mislead magistrates to sustain detentions without probable cause, the detentions thus violate the Fourth Amendment just as surely as when misrepresentations cause detentions under an unfounded arrest warrant."
In the words of the National Police Accountability Project, "Section 1983 provides a critical safeguard against official abuse, by deterring civil rights violations and, when that deterrence fails, compensating victims." Elijah Manuel deserves access to this critical safeguard so that he may seek to vindicate his Fourth Amendment rights in federal court.