Trump's Phony Crime Crisis
FBI numbers refute his portrait of a nation besieged by violent thugs.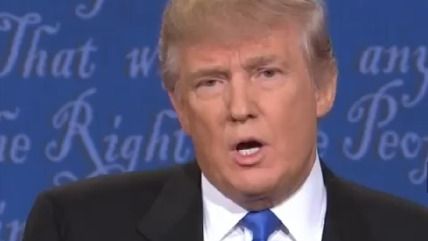 Donald Trump, who is modeling himself after Richard Nixon, used the phrase "law and order" seven times during his debate with Hillary Clinton on Monday night. He said blacks and Latinos in America's inner cities "are living in hell because it's so dangerous" and that "some really bad things" are happening in "so many different places."
FBI numbers released the day of the debate refute Trump's portrait of a nation besieged by violent criminals. While murders did rise by 11 percent in 2015, that increase was driven mainly by a small number of cities, and the violent crime rate is still much lower than it was in the early 1990s—lower, in fact, than in all but two years since 1971.
The homicide rate in 2015 was 4.9 per 100,000, half the rate in 1991. The violent crime rate was 372.6 per 100,000 last year, up 3.1 percent from 2014 but still half the 1991 rate. The property crime rate, which fell 3.4 percent last year, was twice as high in 1991.
Of the country's 100 largest cities, 25 saw significant increases in homicides last year, and just seven of them—Baltimore, Chicago, Cleveland, Houston, Milwaukee, Nashville, and Washington, D.C.—accounted for half of the national increase. It's not clear whether violence will continue to rise in those cities, let alone whether it signals a broader trend. Homicides are down so far this year in Baltimore and Washington, for instance, after rising in 2015.
While the jump in the murder rate should not be lightly dismissed, it hardly shows that the nation is experiencing "a moment of crisis" caused by "violence in our streets" and "chaos in our communities," as Trump claimed at the Republican National Convention in July, or that "crime is out of control, and rapidly getting worse," as he declared on Twitter around the same time. Judging from the FBI's statistics, crime is less "out of control" than it has been in all but a handful of years during the last half-century.
Nor does Trump's favored solution, "stop and frisk," make sense even in the cities where violence is on the rise. Promiscuous use of that tactic, which involves detaining and patting down pedestrians who strike police as suspicious, causes understandable resentment among the young black and Latino men who bear the brunt of it, and there's little evidence that it curtails violent crime.
Trump credited the New York Police Department's stop-and-frisk program with reducing the number of homicides in that city from 2,245 in 1990 to 540 in 2005. Yet homicides continued to fall even after the program was sharply curtailed in 2012, and they are down again so far this year after rising in 2015. Meanwhile, the annual number of stops has fallen by 97 percent from the 2011 peak of more than 685,000.
Trump does not seem to care about the reason stop-and-frisk encounters fell so dramatically in New York. They were challenged on constitutional grounds, and a federal judge ultimately concluded that police were routinely violating the Fourth Amendment by stopping and frisking people without reasonable suspicion.
Trump nevertheless thinks a similar program would do wonders in violence-plagued Chicago, apparently not realizing police there already tried that. In 2014, the American Civil Liberties Union of Illinois reports, "Chicagoans were stopped more than four times as often as New Yorkers at the height of New York City's stop and frisk practice."
As in New York, stops in Chicago overwhelmingly targeted blacks and often lacked a constitutional basis. Stops in Chicago are down sharply this year in response to criticism and new legislation, but that happened after the city's 2015 increase in homicides.
Even if the local police tactics Trump advocates were constitutional and effective, he would have no power as president to implement them. When he promises that "safety will be restored" once he takes office, he offers false assurances about a nonexistent crisis.
© Copyright 2016 by Creators Syndicate Inc.