California Undermines Public Health by Treating E-Cigarettes Like the Real Thing
Classifying vaping devices as tobacco products will deter smokers from making a switch that could save their lives.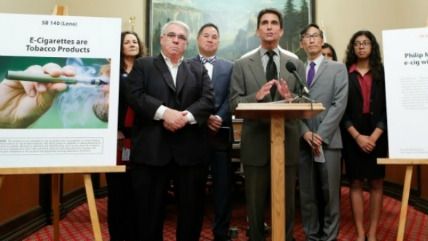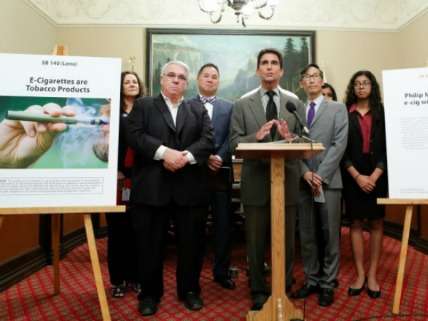 E-cigarettes, a.k.a. electronic nicotine delivery systems, do not contain tobacco and do not burn anything. A new California law neverthless describes them as "tobacco products." As I explain in my latest Forbes column, this misclassification undermines public health by deterring smokers from switching to a much less dangerous habit:
On May 4, the day before the Food and Drug Administration officially classified e-cigarettes as "tobacco products," California did the same thing. Gov. Jerry Brown signed SBX2 5, which expands the definition of tobacco product under several statutes to include "an electronic device that delivers nicotine or other vaporized liquids to the person inhaling from the device." Among other things, the change means that vaping will be banned everywhere that smoking is prohibited and, since another bill signed by Brown raises the age for buying tobacco products from 18 to 21, adults younger than 21 will no longer be allowed to buy e-cigarettes.

California's policy shift is not as consequential as the onerous FDA regulations unveiled the next day, which will shut down thousands of e-cigarette and e-liquid businesses. But it is equally misguided, and the arguments used by its supporters show that the people driving policy in this area are either remarkably clueless or brazenly dishonest. Mark Leno, the state senator who introduced SBX2 5, might be both.