Bribery Charges Indict New York City's Unconstitutional Gun Restrictions
A Brooklyn man is arrested for paying cops to "expedite" pistol permit applications, a business created by arbitrary regulations.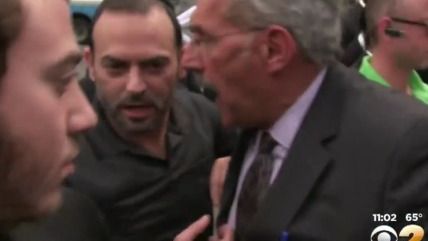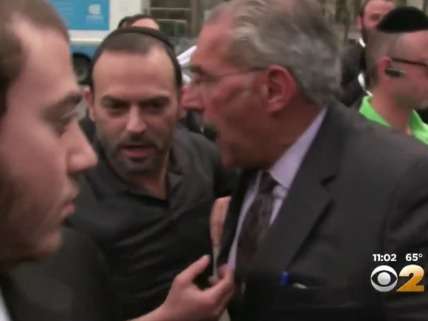 Yesterday federal prosecutors in Manhattan charged the leader of a volunteer neighborhood patrol in Borough Park, Brooklyn, with bribing New York City police officers to facilitate pistol permits. According to the criminal complaint prepared by FBI Special Agent Joseph Downs, Alex Lichtenstein bragged about obtaining 150 permits through his connections with the NYPD License Bureau, reportedly charged his clients $18,000 each, and last week offered one officer (who was secretly recording the conversation) $6,000 for every license he helped expedite.
"Corruption in any part of government cuts at the very fabric of our society," says U.S. Attorney Preet Bharara. "It is particularly damaging when it undermines public safety." But there is not much evidence that Lichtenstein's operation endangered public safety, and the bribery charges represent an indictment of New York City's unconstitutionally restrictive and burdensome gun policies as well as Lichtenstein and the officers who assisted him.
Why, after, all would people be willing to pay as much as $18,000 for the privilege of exercising a constitutional right? You might surmise that many or most of Lichtenstein's clients were legally disqualified from owning guns. But prosecutors cite just one example of a customer with a problematic background, and it sounds like even he did not meet any of the federal criteria for disqualification. "Prior to his application for a gun license," the U.S. Attorney's Office says, "License Holder-1 had been arrested for forgery, received approximately 10 moving violations and three vehicle-related summonses, and had been the subject of at least four domestic violence complaints, including one in which he was accused of threatening to kill someone." Unless one of those domestic violence complaints resulted in a conviction (which prosecutors presumably would have mentioned), this man had a legal right to own a gun under federal law.
But not in New York City, which requires a license not just for carrying a gun in public but for keeping one at home or work. Despite the Second Amendment's guarantee of the right to "bear" as well as "keep" arms, the former type of license is reserved for celebrities and people whose jobs require them to carry guns. The latter type of license is notionally available to ordinary citizens, but the application process is expensive, complicated, time-consuming, and uncertain—so much so that attorneys specialize in guiding people through the ordeal. Bharara's office notes that even when you jump through all the hoops, including the fees, the fingerprinting, the documentation of your identity and residence, the letters of reference, the confession of every brush with the law, and the in-person interview, the NYPD may reject your application based on fuzzy discretionary criteria:
Certain findings, such as a prior felony conviction, result in the automatic disapproval of an applicant. Pursuant to New York State Law, the NYPD License Division has discretion to reject gun license applications for additional reasons, such as moral character, mental health issues, or substance abuse issues. On its website, the NYPD License Division indicates that it may reject applications if the investigation reveals a history of arrest, driving infractions, or domestic violence incidents, among other reasons. Typically, the processing, investigation, and approval or disapproval of an application takes several months and, for licenses to carry guns, at times in excess of one year.
Given how the licensing process works (or doesn't), you can start to understand the business opportunity that Lichtenstein perceived. According to Agent Downs' complaint, Lichtenstein told the cop who turned him in "his customers needed assistance obtaining licenses…because the License Division denies Applications 'for the biggest stupidity,' such as 'somebody got a moving violation.'" That detail is supposed to make Lichtenstein look bad; it actually makes the License Division look bad.
Downs says Lichtenstein "maintained that his customers were deserving of gun licenses, and that all he was asking…was to 'expedite' the process, which I believe to be a reference to foregoing the full investigation typically conducted before the NYPD License Division approves or disapproves an Application." The problem is that "the full investigation" goes well beyond the highly questionable federal criteria for owning a gun, which are unfair and largely illogical but at least objective. By piling on requirements in the name of public safety and giving police the power to reject applications based on subjective criteria such as "moral character" and "mental health issues," New York City not only creates a market for license facilitation that leads to official corruption; it arbitrarily deprives people of their Second Amendment rights.