Black Lives Matter Activist Deray Mckesson Running for Baltimore Mayor
Says government has to identify its problems and solve them.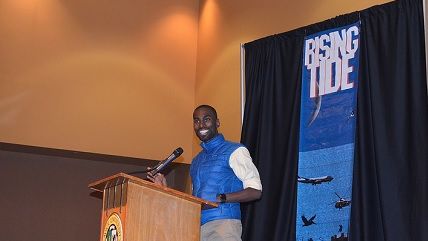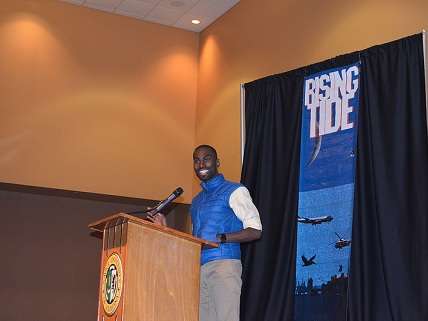 Deray Mckesson, one of the Black Lives Matter activists behind Campaign Zero, a comprehensive set of police reform policies ranging from body cameras to union contracts, for which Campaign Zero launched a separate website, Check the Police, is running to be the Democratic nominee for mayor of Baltimore.
In an announcement made on Medium, Mckesson mostly stuck to his status as a "non-traditional candidate" and "son of Baltimore." Mckesson was previously an educator and school administrator in Minneapolis and Baltimore.
Mckesson broadly sketched out his view of government, which should be "accountable to its people and… aggressively innovative in how it identifies and solves its problems." Safety, wrote Mckesson, included more than policing and that transparency was a core pillar of government. Mckesson wants to make internal city school audits public, for example. He promised to release a policy platform in the coming weeks.
How closely Mckesson's platform follows the proposals of Campaign Zero remains to be seen, but a Democratic candidate who aggressively engages the role of public unions in thwarting transparency and creating many of government's biggest problems, from education to policing, would indeed be transformative. Even just an engagement of the role of police unions would be politically disruptive.
Mckesson's background in public schools administration could go either way on whether he calls out the role teachers unions play in keeping bad teachers on the job, much like police unions keep bad cops on the job. Although there are more than a dozen other Democratic candidates, Mckesson is poised to expand the conversation in the race, with the potential to address issues usually ignored by mainstream candidates and introduce policy positions mainstream Democratic candidates are hesitant to take on because of entrenched party interests but that could appeal to a broad section of the electorate.
The frontrunner in the race, former mayor Sheila Dixon, says she's never heard of Mckesson. "We all want the best for Baltimore," she told the Baltimore Sun. "There are 84 days left. I'm staying focused."
Another leading Democratic candidate, Nick Mosby, a councilman and husband of the state's attorney prosecuting the officers involved in Freddie Gray's death, previously committed to working with a bipartisan group on criminal justice and policing reforms. Mosby said he welcomed anyone into the raise but that he had a comprehensive plan for Baltimore. While it includes a plank that promises to "improve police transparency, require true community policing, combat addiction, and get body-worn cameras on officers within 100 days of taking office." His platform doesn't mention the role of union contracts in offering expansive job protections to officers like the one his wife is now prosecuting. And of course it doesn't mention teachers unions or, for that matter, even charter schools.
The Sun talked to politics radio host Sean Yoes explained what he thought would be one of Mckesson's biggest hurdles in the race, older African-American women. "If the electorate consisted of celebrities who were politically conscious, then maybe he would have a chance," he said. "I suspect the vast majority of the most prolific voting bloc in Baltimore City do not know who he is. That's going to be problematic for him."