Ted Cruz Abandons Criminal Justice Reform on His Way to the White House
The Texas senator, once a leading Republican critic of disproportionate punishment, seems to have switched sides.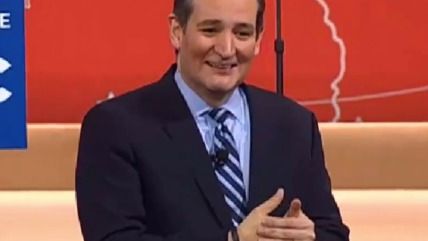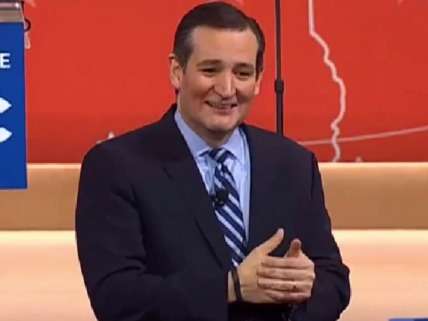 In a collection of essays on criminal justice reform published last April, Ted Cruz criticized "draconian mandatory minimum sentences" and bragged about supporting a bill that would cut them in half for federal drug offenders. Six months later, the Texas senator warned his colleagues on the Senate Judiciary Committee against voting for a bill that would let drug offenders seek shorter sentences, saying "every one of us who votes to release violent criminals from prison prior to the expiration of their sentence can fully expect to be held accountable by our constituents." In my latest Forbes column, I argue that Cruz's presidential ambitions led him to abandon a cause he once championed:
A year ago, Senate Judiciary Committee Chairman Chuck Grassley condemned a sentencing reform bill backed by Ted Cruz as "lenient" and "dangerous." Eight months later, it was Cruz's turn. Explaining his opposition to a sentencing reform bill backed by Grassley, Cruz described it as dangerously lenient.

When the Senate Judiciary Committee approved Grassley's bill by a 3-to-1 margin in October, Cruz joined four other Republicans in voting no. The Texas senator—once a leading Republican critic of excessively harsh criminal penalties, especially for nonviolent drug offenders—had effectively traded places with Grassley, a law-and-order Iowa Republican who has long resisted efforts to reduce those penalties.

The switch was especially puzzling because the bill Cruz supported was more ambitious than the one he portrayed as unacceptably lax. Worse, Cruz's explanation for his vote featured the sort of demagoguery that politicians like Grassley have long deployed against attempts to make our criminal justice system less mindlessly punitive. It is hard to escape the impression that Cruz, who is running second to Donald Trump in the race for the Republican presidential nomination and still has a shot at winning the Iowa caucus on Monday, decided to abandon a cause that might alienate conservative primary voters.