Drunk Off-Duty Chicago Cop Shot at Off-Duty Local Cop Trying to Pull Him Over
Charged with aggravated discharge of a firearm a year later; still with the police department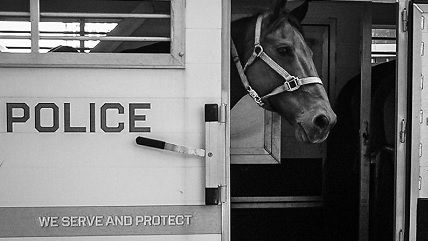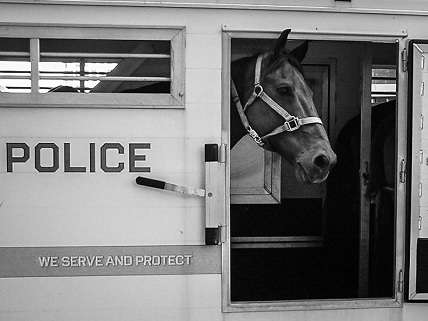 A police officer in Chicago was charged today with a felony count of aggravated discharge of a firearm, nearly a year after the alleged incident, where the officer, John Gorman, off-duty and allegedly drunk, shot at a local off-duty officer in Merrionette Park, Illinois, and the driver of the pick-up truck the Marionette officer was in when he had noticed Gorman driving erratically and dangerously, and with an open container of beer in his car, and tried to pull him over.
The Chicago Sun Times reports on the incident:
The Merrionette Park cop called 911 and followed Gorman to Prospect and Pryor avenues on the Southwest Side of Chicago — about two blocks from the Morgan Park police station.

Gorman allegedly walked to the back of his Buick and aimed his gun at the pickup truck.

The driver of the pickup drove away as Gorman fired five shots, prosecutors say.

One of the bullets left a hole in the rear bumper of the pickup, but the Merrionette Park officer and the driver were not shot.

The Merrionette Park officer reported the shooting to officers at the Morgan Park station. Chicago Police officers ran the license plate of the Buick and realized it was registered to Gorman, who they contacted and arranged to meet.
Gorman showed up, admitted to firing his service weapon, and handed it over. He refused to take a breathalyzer test until being compelled by Internal Affairs five hours later. By then, he blew just under the legal limit, and was charged with a misdemeanor DWI. Gorman wasn't fired. Instead he was put on desk duty and kept his job.
The Internal Affairs complaint produced by the 2014 shooting incident was at least the 22nd misconduct complaint on Gorman's record, according to a database of the University of Chicago Law School, as reported by the Sun-Times. Most of the complaints had to do with alleged false arrests. None of them, including the shooting at the off-duty cop that earned him a felony charge this week, led to any disciplinary measures.
The city of Chicago spends approximately $1 million in taxpayer money a week settling complaints against members of the Chicago Police Department. The Chicago police superintendent, Garry McCarthy, previously claimed criminally charging cops involved in fatal shootings presented a "safety hazard"—he was referring to the prosecution, ultimately failed, of an off-duty Chicago cop who shot behind his back into a crowd of people as he drove the wrong way down a one-way street. Between 2011 and 2014 nearly 18,000 complaints against Chicago police officers were filed. Union-negotiated contracts in Chicago, and around the country, have helped produce rules that protect bad actors, causing grave damage to police-community trust and exacerbating the problem of unaccountable police violence.