Wikileaks Posts Emails They Claim Come From CIA Director John Brennan's Hacked Account—Sensitive Personal Info Included
Unredacted personal information of Brennan's and his relatives included among the documents.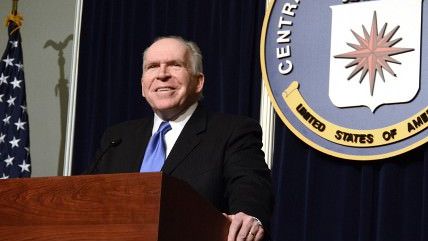 Wikileaks just released six documents allegedly culled from CIA Director John Brennan's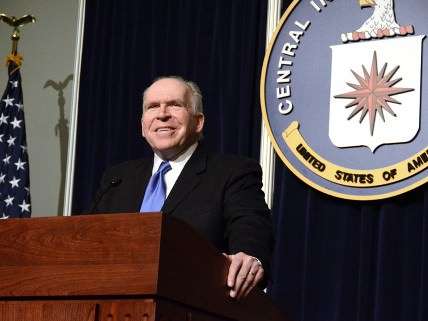 personal email account, which were allegedly stolen by a 20 year-old hacker.
Ranging from July 2007 through November 2008, the "emails" are presented as PDF attachments and include policy drafts written by the longtime CIA employee, then working in the private sector, as he transitioned into an Obama campaign adviser and eventually a high-level administration official.
In the scorched earth tradition Wikileaks has grown infamous for, the documents (if accurate) also include unredacted personal info such as the passport numbers, phone numbers and addresses of Brennan and several of his relatives, which were included in a form Brennan filled out while applying for his job as Assistant to the President for Homeland Security and Counterterrorism, which he held before becoming CIA director in 2013.
The most interesting revelation from a policy standpoint is Brennan's strong and repeated recommendations for the Obama administration to "tone down the rhetoric" of the Bush administration with regards to Iran, and to "establish a Direct Dialogue with Tehran," "seek realistic, measurable steps," and "hold out meaningful carrots, as well as sticks."
Taking direct aim at the Bush administration's "Global War on Terrorism," Brennan (allegedly) writes:
The gratuitous labeling of Iran as part of a worldwide "axis of evil" by President Bush (date?) combined with strong U.S. criticisms of Iran's nascent nuclear program and its meddling in Iraq led Tehran to the view that Washington had embarked on a course of confrontation in the region that would soon set a kinetic focus on Iran. Even Iran's positive engagement in helping repair the post-Taliban political environment in Afghanistan was met with indifference by Washington.
Wikileaks' summary of the released documents:
"National Security Position" form for John Brennan. This form, filled out by Brennan himself before he assumed his current position, reveals a quite comprehensive social graph of the current Director of the CIA with a lot of additional non-govermental (sic) and professional/military career details. (17 November 2008, Author: Austin)
FAX from the General Counsel of the CIA to the Goverment (sic) Accountability Office about a legal quarrel between the CIA and "The Analysis Corporation". TAC seems to have lost a tender for a US watchlist-related software project to a competitor. Issues seem to revolve around "growth of historical data" and "real-time responsiveness" of the system. (15 February 2008, Sender: CIA, Office of General Counsel, Larry Passar)
Challenges for the US Intelligence Community in a post cold-war and post-9/11 world; a calling for inter-agency cooperation, a ten-year term for the Director of the CIA and the Director of National Intelligence. It also demands the autonomy of the Intelligence Community, that it "… must never be subject to political manipulation and interference." An unfinished paragraph is titled "Damaging Leaks of Classified Information". (15 July 2007, Author: John Brennan)
Recommendations to the next President (assuming office in Jan. 2009) on how to play the figures on the U.S.-Iranian Chessboard (18 November 2007, Author: John Brennan)
Letter from Vice Chairman Bond, Senate Select Committee on Intelligence, to his fellow board members with a proposal on how to make future interrogation methods "compliant" and "legal". Instead of listing all allowed methods, every kind of interrogation should be considered compliant, as long as it is not explicitly forbidden by the "Army Field Manual" (AFM). (May 2008)
A bill from July 2008 called "Limitations on Interrogation Techniques Act of 2008" explicitly list the forbidden interrogation techniques mentioned in the previous document and can be considered a direct implementation of the recommendations of Christopher Bond. (31 July 2008)
Wikileaks claims that more of Brennan's personal email communications will be released "in the coming days."