New York to Get Special Prosecutor for Fatal Police Shootings
Step in the right direction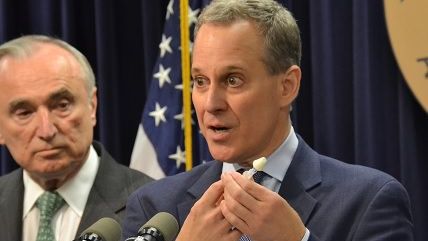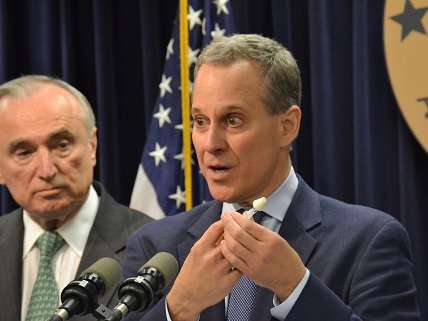 Last year, New York's attorney general, Eric Schneiderman, asked fellow Democrat, Governor Andrew Cuomo, for the authority to investigate and prosecute all killings by police in the state of New York. This week, more than seven months after the first request, Cuomo said he'll sign an executive order to that effect.
It's a positive move toward imposing more accountability on police forces—local investigations of alleged police misconduct have been rightly criticized across the country, but, as politicians are wont to do, Cuomo took more credit than he deserved.
His comments, via Reuters:
"We will be the first state in the country to acknowledge the problem and say we're going to create an independent prosecutor who does not have that kind of connection with the organized police departments," Cuomo said, according to The New York Times.
Not quite. New York's not the first state to acknowledge the problem and create nominally independent processes—Wisconsin passed a law for mandatory outside reviews of police killings in April of last year, before police brutality became a mainstream issue around the country. And last year in Connecticut, outside prosecutors began overseeing investigations of local police shootings. Legislators in Missouri, Colorado, and California all began efforts last year to get independent investigations of police shootings, although they haven't been supported by the Democratic leadership in those states and haven't yet been successful.
Whether Schneiderman's office, and the investigative team it conjures, won't have a "connection with the organized police departments" also remains to be seen. The attorney general in Vermont, for example, boasts of bringing 27 prosecutions against police officers across the state—digging by the Vermont Digger found no criminal charges for line of duty use of force. In the first test case of Wisconsin's new law, the investigation of the Milwaukee police officer who shot and killed Dontre Hamilton was conducted by a team comprised of several former Milwaukee cops, including the head of the team. The officer, Christopher Manney, was fired by the police department, but the state investigation cleared him of wrongdoing.
Nowhere else but Wisconsin are state investigations mandatory, but questionable police shootings are kicked up to state investigators often enough. Independent investigations work best with other measures also in place, among them a separation of police unions from the disciplinary process.
Cuomo is less likely to exploit any progress on that front for political gain. Last year, the New York state legislature overwhelmingly voted in favor of a police discipline bill that would give police unions more authority to dictate the kind of disciplinary measures their members should face. Every member of the Black, Puerto Rican, Hispanic and Asian Caucus present for the vote voted yes. Cuomo vetoed it, not by announcing his opposition, but by allowing the bill to expire unsigned, using the "pocket veto," at the beginning of the year. A spokesperson said four previous governors had vetoed similar legislation and that the issue (of unions controlling police discipline) was one best left to local governments. No bold stance to acknowledge that problem.