Watching American Sniper in Baghdad
Iraqi audiences are flocking to watch the controversial film - and liking what they see.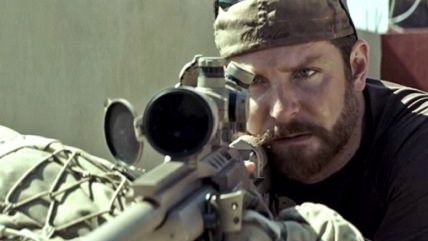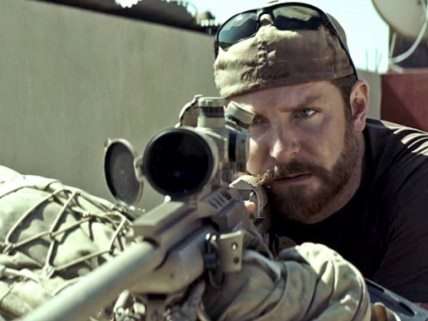 Early in American Sniper, the title character, Chris Kyle, stares through his crosshairs at a woman and child who may be preparing an attack on American troops. Even when the woman hands the boy an RPG, Kyle waits to pull the trigger. In one particular theater, with "the entire audience on the edge of their seats," patrons start screaming, encouraging Kyle to "Just shoot him!"
Where was this theater? Somewhere near a U.S. military base, maybe? Or perhaps in the heart of a red state? Actually, this packed theater, "full and rowdy," is in the Mansour Mall, in Baghdad.
As everybody knows, Clint Eastwood's film has been a box-office smash, praised for its directing and its performances, and attacked as a work of bloodthirsty, racist, militarist propaganda. One of the few things about the film that has received little attention is that it has been playing well in the Middle East, including in Iraq.
A piece at Global Post addresses audience reaction at one upscale Baghdad theater, though the article is dependent on a small handful of interviews. The story is credited to "Susannah George in Beirut and a journalist in Baghdad."
Obviously, not all Iraqis are pleased with American Sniper. One theater chain that had booked the movie decided not to show it all, according to an account on a movie trade site, "for fear of inciting protests and violence." Even the management of the Mansour Mall theater pulled the movie after a week, despite the crowds, because, an employee claimed, "the hero of this film boasts of killing more than 160 Muslims."
A displeased viewer agreed with the theater's decision. "To some extent, I considered it against all Muslims." The same man also complained about the scene in which Kyle shoots the woman and the boy, the same scene that had much of the audience cheering for Kyle to pull the trigger.
"The sniper, he has a chance to hit the child and his mother in their foot or anywhere without killing them, but he didn't because he's bloodthirsty like all the American troops." Even so, this same man watched the movie twice at the theater, and a third time on a pirated DVD, according to Global Post.
"I love watching war movies," said a satisfied customer, "because especially now they give me the strength to face ISIS." Asked if he found the movie to be racist or anti-Arab, he said, "No, why? The sniper was killing terrorists, the only thing that bothered me was when he said he didn't know anything about the Quran!"
American Sniper has also been playing to packed houses in Iraq's Kurdish region, right behind Taken 3, including in theaters owned by the same chain that that shied away from opening the film at all in Baghdad.
"The Kurds don't like the Baghdadis that much so they have no big problem seeing them getting shot by an American," said one film exec who operates theaters in Iraq. "So far, the film is working well for our screens in Kurdistan."
The film has also been drawing big crowds in Lebanon. Edited versions have opened in several Gulf states, with cuts to a scene involving the Quran. Jordanian censors originally rejected the film outright, though distributors plan to submit a re-edited version.
An Iraqi filmmaker named Mohamed Al-Daradji says "audiences respond emotionally to war movies because conflict plays such a big part in day to day Iraqi life," according to Global Post's paraphrase.
Daradji said he had not yet seen American Sniper, but he knew his goals both as a filmmaker and a citizen of his country. "There [are] no American films [about Iraq]—and I saw a lot of them—that have given justice to the Iraqi people and the events that happened in Iraq," he said. "That's why we Iraqi filmmakers have to make films about Iraqi people."