Watch Damon Root Tonight on C-SPAN's Book TV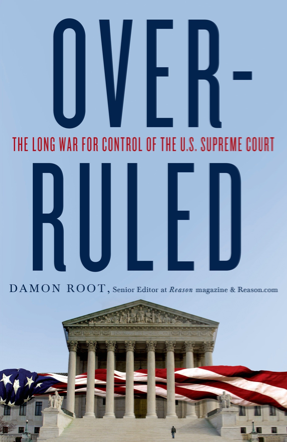 Tonight at 9PM ET C-SPAN's Book TV will feature Reason Senior Editor Damon Root discussing his new book Overruled: The Long War for Control of the U.S. Supreme Court (order your copy today!). Check your local listings for channel information and click here to learn more about the hour-long Book TV program.
Here's what the critics are saying about Damon Root's Overruled:
"…The most thorough account of the libertarian-conservative debate over judicial review…a valuable guide to both the past and the potential future of these important issues."—The Washington Post
"Confident, competent telling. In particular, [Root] powerfully illustrates that Holmes, Brandeis and Frankfurter—the most overrated justices in our history—had not the foggiest notion of the Constitution."—Wall Street Journal
"A riveting account of the raging debate over the future of our Constitution… I loved this book." —Randy E. Barnett, Carmack Waterhouse Professor of Legal Theory, Georgetown University Law Center, and Director, Georgetown Center for the Constitution
"Superb…. [Overruled] accurately and candidly describes a fissure that has indeed, as Damon says, defined American law over the past century."—Jeffrey Rosen, President of the National Constitution Center
"This book is nothing short of a lucid and brilliantly crafted history of the Framers' fears coming to pass at the hands of a judiciary faithless to first principles."—Judge Andrew P. Napolitano, Senior Judicial Analyst, Fox News Channel
"Damon Root explains it all." —P. J. O'Rourke, journalist and H. L. Mencken Research Fellow at the Cato Institute
Tune in tonight at 9pm ET to Book TV or set your DVR to record.