U.S. Takes First Steps to Fix Cuban Policy: Here's What Pundits Are Saying
The good, the bad, and the Lindsey Graham.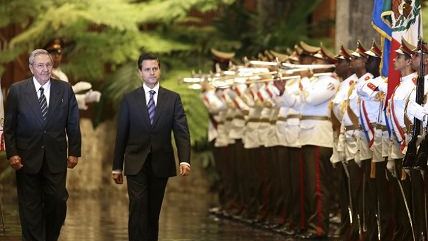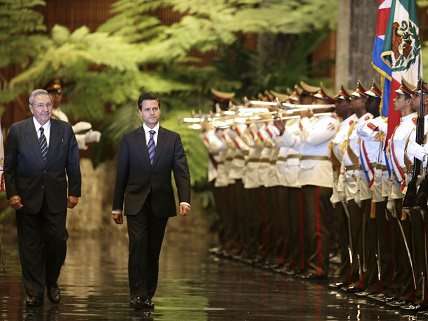 President Obama announced Wednesday that the U.S. will establish diplomatic ties with Cuba, a huge milestone in U.S.-Cuba relations. While only an act of Congress could repeal the embargo that has existed since 1960, this is a vital first step in allowing market forces to eventually improve the lives of Cubans who have languished under dictatorship for more than half a century.
For fans of human freedom and economic opportunity, the news is undoubtedly encouraging. Over the years, Reason has frequently written about the need to open up Cuba to market forces. As Sen. Jeff Flake (R-Arizona) told Reason TV in 2011, "the whole trade embargo is silly." Flake explained that it was wrong for the American government to limit its citizens' interactions with Cubans.
Unfortunately, all too many Republicans remain committed to Cold War-era posturing on outdated and ineffective national security measures. Neocon Sen. Lindsey Graham leads the pack:
I will do all in my power to block the use of funds to open an embassy in Cuba. Normalizing relations with Cuba is bad idea at a bad time.
— Lindsey Graham (@GrahamBlog) December 17, 2014
And he has plenty of company, according to The Huffington Post:
Sen. Marco Rubio (R-Fla.), another member of the Senate Foreign Relations Committee, was equally blunt. Appearing on Fox News on Wednesday, the Cuban American slammed the administration for the expected announcement, which he called "absurd." …

"Appeasing the Castro brothers will only cause other tyrants from Caracas to Tehran to Pyongyang to see that they can take advantage of President Obama's naiveté during his final two years in office," Rubio said. "As a result, America will be less safe as a result of the President's change in policy. When America is unwilling to advocate for individual liberty and freedom of political expression 90 miles from our shores, it represents a terrible setback for the hopes of all oppressed people around the globe."
But neoconservatives aren't the only critics of improved relations with Cuba. Some Twitter leftists seem depressed about the prospect of their tropical island socialist paradise transforming into a capitalist hellhole:
Cuba has the best doctors in this hemisphere. I'm glad that Obama will overwhelm them with all the corporations that killed Cuba before.

— War on Xmas Jeb Lund (@Mobute) December 17, 2014
I'm very glad I was able to visit Cuba several times before US tourists try to turn it into Cancun

— jeremy scahill (@jeremyscahill) December 17, 2014
booking my Cuba vacation now before there's a Starbucks, a McDonald's, and a bank on every block

— Matt Binder (@MattBinder) December 17, 2014
It would appear there's more overlap between delusional, angry neoconservatives and authoritarian-worshipping leftists than one would expect, huh?
To end on a positive—and highly sarcastic—note:
It is crucial that we not abandon the Cuban embargo, given its obvious success in ousting the communist regime.

— Jim Antle (@jimantle) December 17, 2014
Stay tuned for more news on this front. In the meantime, read more from Reason on the Cuban embargo here.