Seven Weeks Later, Accused Rapist Oklahoma Trooper Arrested, on Pending Charges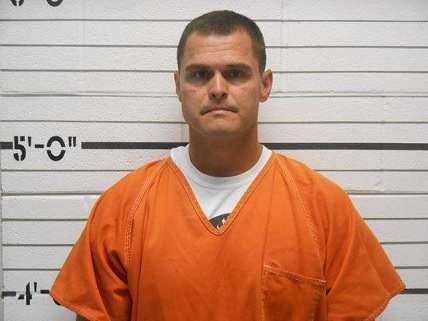 Eric Roberts, an officer with the Oklahoma Highway Patrol (OHP), was accused of raping a woman he pulled over on July 22 in a federal lawsuit filed by the woman last month. The trooper was suspended with pay on July 24, when the OHP says it found out about the allegations. He was arrested today, but not yet formally charged. Fox 25 in Oklahoma City reports:
The woman was traveling with a friend and claims the trooper told her friend to go to a hotel while she was told to get in the trooper's squad car.

The woman says the trooper made her access porn on her phone so he could watch and took her to a secluded area and raped her, according to the lawsuit.

Charges pending against Roberts include 2nd degree rape, two counts each of of rape by instrumentation, kidnapping, indecent exposure, one count of forcible oral sodomy, and one count of sexual battery. The charges have not yet been filed against the OHP trooper.
The reason Roberts pulled the woman over? According to her complaint, she did not break any traffic laws but the officer said he smelled marijuana in the vehicle.