Obama Speaks as Threat of Russian Invasion of Ukraine Persists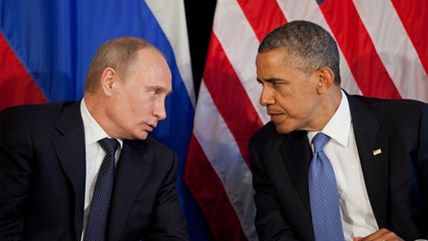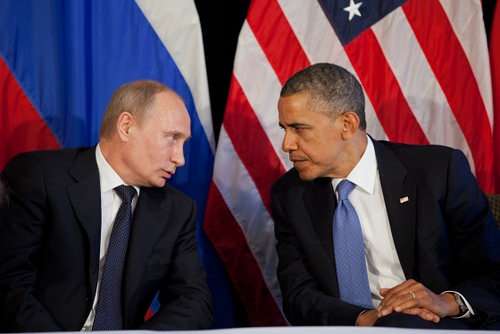 Ukraine is pulling its military out of the recently-annexed Crimean peninsula, indicating that Russia's control of the region will go uncontested. But, the Ukrainian government fears that unpredictable and forceful behavior from their neighbor is threatening to destabilize other regions of Ukraine. President Obama, who is on a four-day trip in Europe, spoke about the crisis today.
"Europe and America are united in our support of the Ukrainian government and the Ukrainian people" and "we're united in imposing a cost on Russia for its actions so far," Obama assured before heading to a meeting with other world leaders in the Netherlands.
Michael Shear of The New York Times suggests Obama's approach stands "in stark contrast to the more hopeful tone struck by President Bill Clinton," who visited the Netherlands in the late '90s to better U.S.-Russian relations.
Obama's threats don't seem to deter Russian President Vladimir Putin.
The Russian government set March 29 as the deadline for Ukraine to get off the peninsula, but isn't passing up on the opportunity to rough the old tenants up before slamming the door. Reuters writes that earlier today, Kremlin forces injured around 150 people while "using stun grenades and machine guns… backed by two helicopters" as they "swept into [a] marine base in the port of Feodosia" and snatched Ukrainian officers for "for questioning." Russian troops have detained as many as 80 Ukrainian marines and carried out the assault despite the fact that Ukraine has been complying with orders by presenting no armed resistance to take-overs of military posts. In recent days, Russians have staged similar seizures of other bases in the region, and one Ukrainian military cartographer has been killed.
This may not be the limits of Russia's aggressive behavior, though, which concerns members of the Ukrainian government. Agence-France Presse reports:
"The aim of Putin is not Crimea but all of Ukraine… His troops massed at the border are ready to attack at any moment," Ukraine's National Security and Defence Council chief Andriy Parubiy told a mass unity rally in Kiev.

Foreign Minister Andriy Deshchytsya reaffirmed that message in an interview broadcast on Sunday on a top US political talk show.

"We do not know what Putin has in his mind and what would be his decision. That's why this situation is becoming even more explosive than it used to be a week ago," Deshchytsya told ABC's "This Week".
They aren't the only ones worried. Along Ukraine's border, Russia has a "very, very ready" collection of an estimated 80,000 troops conducting exercises, according to NATO commander Gen. Philip Breedlove. Breedlove, who is also in the Netherlands, suggests that "Russia is acting much more like an adversary than a partner," he said, and may have its eyes set on a disputed sliver of land between Ukraine and Moldova.
Read more Reason coverage of Ukraine and Russia here.