They Lied
Obamacare's 12 false premises and broken promises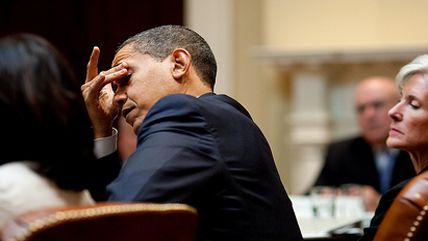 On November 7, President Barack Obama made a first tentative stab at an apology for the fact that, despite his often-repeated assurances to the contrary, millions of Americans were losing their health insurance plans as a result of the Patient Protection and Affordable Care Act (ACA). "I am sorry that they are finding themselves in this situation based on assurances they got from me," he told Chuck Todd of NBC News.
The president's reluctant apology was as empty as the promise that he broke. Obama was not sorry for the law or its impact on the health insurance status of millions, which was not only predictable but intended. Nor did he apologize for misleading the public, as he most certainly had. At a press conference the following week, White House Press Secretary Jay Carney struggled to explain what exactly the president was contrite about.
Despite its insufficiency as a mea culpa, the president's interview was a tacit acknowledgement that the disastrous rollout of his signature legislative achievement had produced a crisis of confidence not just in Obama's competence but in his credibility. This development was underscored five days later when a Quinnipiac poll found that 52 percent of Americans no longer trusted him.
In a rambling, unusually reflective press conference on November 14, a weary-looking Obama actually swallowed a bit of crow instead of just picking at it. "I completely get how upsetting [the cancellations] can be for a lot of Americans, particularly after assurances they heard from me that if they had a plan that they liked, they could keep it," he said. "There is no doubt that the way I put that forward unequivocally ended up not being accurate." The president also acknowledged that "we fumbled the rollout on this health care law," saying, "I did not have enough awareness about the problems in the website." He added that "I think it's legitimate for [people] to expect me to have to win back some credibility on this health care law."
But Obama's broken promise that people who liked their health plans could keep them only scratches the surface of the administration's health care mendacity. As the following list illustrates, it was one of at least a dozen false or misleading statements that senior administration officials and ranking Democrats made before, during, and after Obamacare was signed into law. The persistent misrepresentations and outright lies were in fact integral to the law's passage, to its implementation, and to the damage-control phase that began with the botched launch of the online insurance exchanges in October. Judging by how badly the rollout has been managed thus far, it is possible that the president's apology tour has only just begun.
1. "If you like your insurance plan, you will keep it."
The most notorious of Obama's promises was arguably the most critical for Obamacare's passage. Here is how he put it a week after signing the ACA into law: "If you like your insurance plan, you will keep it. No one will be able to take that away from you. It hasn't happened yet. It won't happen in the future."
Obama offered some variation on this promise dozens of times even after the summer 2010 release of rules governing which pre-existing insurance plans would be "grandfathered" into legal acceptability despite not otherwise complying with the new law. Those regulations prompted bureaucrats at the time to quietly estimate that between 40 and 67 percent of individual market health insurance plans would not be covered by the grandfather clause. Indeed, the rules were crafted narrowly to guarantee this result, so that healthy people on low-cost plans would end up switching to more expensive insurance, in effect subsidizing sicker people covered by the policies sold on the exchanges.
Obama's advisers knew full well that his original promise could not be kept. As The Wall Street Journal reported on November 13, the White House policy team pushed for more nuanced language than its political staff wanted. The wonks lost out to the hacks.
Reality: According to a November 4, 2013, report in Politico, more than 3.5 million Americans have been hit with health plan cancellations. Millions more are expected to follow.
2. "What we said was you can keep it if it hasn't changed since the law passed."
It wasn't enough for President Obama to mislead millions of people about whether they could keep their health plans. When initially called out on it, the administration responded with a lie about the lie.
"FACT: Nothing in #Obamacare forces people out of their health plans. No change is required unless insurance companies change existing plans," White House adviser Valerie Jarrett declared in an October 28 Tweet, simply ignoring the reality that the plans being canceled were terminated because of minimum coverage requirements that were built into Obamacare.
Cornered, the president attempted to rewrite history. "If you had one of these plans before the Affordable Care Act came into law and you really liked that plan," he said in a November 4 speech, "what we said was you can keep it if it hasn't changed since the law passed."
Reality: President Obama promised repeatedly, with no caveats or qualifications, that people who liked their plans could keep them, and that no one would ever take them away, period. Versions of the promise were captured on video at least 36 times.
3. "If you like your doctor, you will be able to keep your doctor, period."
This promise was nearly as central to passing the law. In a June 2009 speech to the American Medical Association, the president put it this way: "No matter how we reform health care, we will keep this promise to the American people: If you like your doctor, you will be able to keep your doctor, period."
Reality: People who can't keep their plans often can't keep their doctors, because doctors are affiliated with particular networks and insurers. Many of the new plans offered through the law's insurance exchanges were built with narrow networks to keep costs down. Top hospitals are available under relatively few of the exchange plans, generally those with relatively high premiums.
4. "We'll start by reducing premiums by as much as $2,500 per family."
Just as Obama made the wildly unrealistic promise that his health care overhaul would not have any effects that people did not like, he also promised that it would have an effect everyone would like: lower insurance premiums. "It's easy to have good ideas and make big promises," he said in a campaign trail speech in 2008. "You've all heard plenty of that these past 20 months. The hard part is coming up with a concrete, detailed plan, and translating that plan into action. So today, I want to take a few minutes to tell you exactly what I plan to do, how I'll get it done, and how I'm going to pay for it. We'll start by reducing premiums by as much as $2,500 per family."
Obama made the promise at least a dozen times in the run-up to the 2008 election. But eventually the claim receded as average health insurance premiums continued to rise. Health and Human Services Secretary Kathleen Sebelius backtracked in March 2013, saying that under the law some "folks will be moving into a really fully insured product for the first time, so there may be a higher cost associated with getting into that market." In short, maybe you can't keep your plan-and, oh yeah, your plan might be more expensive too.
Reality: The average annual premium for an employer-provided health plan rose from $13,375 to $16,351 between 2009 and 2013, according to a survey by the Kaiser Family Foundation. Prices for individual market plans like those found on the exchanges are also up, with the average state facing premium increases of 41 percent, according to a November 2013 analysis by Manhattan Institute health policy analyst Avik Roy.
5. "It will create 4 million jobs-400,000 jobs almost immediately."
It wasn't enough to pitch Obamacare as a premium-reducing law that would not have any negative consequences. Democrats also argued that it would create jobs. "This bill is not only about the health security of Americans," Rep. Nancy Pelosi (D-Calif.), then speaker of the House, said in February 2010. "It's also about jobs. In its life, it will create 4 million jobs-400,000 jobs almost immediately."
Reality: The gush of jobs never materialized. The unemployment rate slowly receded in the months after Obamacare passed, but largely because more people had quit searching for work. By 2021, according to projections by the Congressional Budget Office, the law is expected to shrink the nation's work force by about 0.5 percent, since fewer people will hold onto their jobs to maintain their health insurance.
6. Obamacare "pushed back on the undue influence of special interests."
When he signed the Affordable Care Act into law on March 23, 2010, President Obama proclaimed that it represented a triumph of the little guy over the politically powerful. "Tonight we pushed back on the undue influence of special interests," he said. "We proved that this government-a government of the people and by the people-still works for the people."
Reality: Obama cut deals with major incumbents in the health care industry to obtain their nearly unanimous support. America's Health Insurance Plans, an industry group, backed the law because of the individual mandate to buy health insurance. The American Medical Association was reportedly promised that, in return for its support, Democrats would fix the way Medicare pays doctors-a fix that never came. And as documents released by congressional Republicans eventually revealed, the White House cut an explicit deal with the pharmaceutical industry guaranteeing that the administration would not pursue several policies that drug makers opposed, in order to get the industry's support for the law. Meanwhile, Obamacare has never been popular with the public it was supposed to be working for.
7. "We are on schedule, and will be ready for the marketplaces to open on October 1."
Democratic, Republican, and independent experts all repeatedly expressed skepticism about the administration's ability to deliver a functional health insurance exchange system by October 1, 2013, the day it was set to launch. Over and over again, federal health officials insisted that they would be ready on schedule. "I am confident that states and the federal government will be ready in 10 months," said Gary Cohen, who ran the exchange implementation project inside the Centers for Medicare & Medicaid Services, in December 2012. He repeated the claim in February 2013, and his colleagues followed suit.
In July, just weeks after a scathing Government Accountability Office report warned that the project had missed a slew of deadlines and might not be ready on schedule, the Department of Health and Human Services (HHS) released a web video titled "HHS is on Schedule," that ended with a dated promise: "10/01/2013: The Health Insurance Marketplace Will be OPEN for ENROLLMENT." Health agency spokespersons continued to proclaim the project's readiness right up to the moment of launch.
Reality: The launch was a disaster, with serious problems in many state exchanges and with the federal website freezing up just minutes after going live. It was a catastrophe that some in the administration knew was on the way. "Confidential progress reports from the Health and Human Services Department show that senior officials repeatedly expressed doubts that the computer systems for the federal exchange would be ready on time," The New York Times reported on October 12, 2013.
8. "Regardless of how the Marketplace is managed, consumers will be able to access the Marketplace with ease."
The administration did not just signal that the federal exchange site, HealthCare.gov, would be ready on time. The president and others also insisted it would be a snap to use.
"Starting on Tuesday," Obama said in a Maryland speech less than a week before the exchanges opened, "every American can visit HealthCare.gov to find…the insurance marketplace for your state." Using the exchange would be "real simple," he said. "It's a website where you can compare and purchase affordable health insurance plans, side by side, the same way you shop for a plane ticket on Kayak-same way you shop for a TV on Amazon."
Cohen, the senior exchange official, sang the same tune to Congress in February: "We have been hard at work to ensure the Marketplaces will be easy to use when they become operational."
Reality: As Obama and Cohen were making their promises, they had no idea whether the site would even be functional. On September 26, the day of Obama's Maryland speech, "there had been no tests to determine whether a consumer could complete the process from beginning to end," according to an October report in The Washington Post. That month Businessweek reported that such testing still had not been conducted.
9. "We expect to resolve these issues in the coming hours."
Following the disastrous launch of the ex­changes, administration officials said not to worry, that problems would soon be resolved. On October 1, the day the exchanges opened, one anonymous federal health official told Reuters that "we expect to resolve these issues in the coming hours."
But the system continued to struggle. A few days later, officials promised yet another fix was on the way. "To make further improvements to the system, we will be taking down the application part of the website for scheduled maintenance during off-peak hours over the weekend," an HHS official explained in a statement to the press on October 4. "We expect that Monday, less than a week after the marketplace opening, there will be significant improvements in the online consumer experience."
Reality: The problems went much deeper than the administration initially claimed. Six weeks after launch, online enrollment in the federal exchanges was still stymied by serious technical failures. "The website is not working well," White House Press Secretary Jay Carney admitted on November 7, and it "hasn't been working well for the first month of the rollout." An HHS report later revealed that the site had been accessible just 42 percent of the time during the month of October.
10. "Take away the volume, and it works."
As the launch of the exchange system continued, top members of the administration began to admit they had a problem. But it was, in the words of HHS Secretary Sebelius, "a good problem to have." The failure, they claimed, was due to higher-than-expected traffic, meaning there was even more initial interest in the exchanges than the administration had anticipated. It would therefore be an easy problem to solve. "These bugs were functions of volume," White House Chief Technology Officer Todd Park told USA Today on October 5. "Take away the volume, and it works."
Reality: Volume dropped, but malfunctions continued. Outside experts contacted by multiple news organizations found many shortcuts, messy construction, and unnecessary functions in the visible portions of the code. And insurers reported that the enrollment information they were receiving from the system was frequently flawed. The system was not just overwhelmed; it was poorly designed.
11. "No, we don't have that data."
How big were the problems with HealthCare.gov? The most obvious way to find out was by counting the number of people able to fully enroll in health coverage. But as the rollout continued to flail, the administration refused to release any data. In fact, in the first few days, officials simply denied they had access to the numbers.
"No, we don't have that data," White House spokesperson Jay Carney told reporters on October 3. "I can't tell you, because I don't know," HHS Secretary Sebelius told The Daily Show's Jon Stewart on October 7. Their pleas of ignorance strained credulity.
Reality: Leaked notes from the administration's daily Obamacare war room meetings later revealed that on launch day there were a total of six enrollments through five different insurance issuers. By the second day, the number had climbed to 248. The numbers were terrible, so the administration pretended they did not exist.
12. "[We] follow high standards regarding the privacy and security of personal information."
Beyond the issue of whether the exchanges would work at all, many had questions about whether they would be secure. The exchanges were designed to judge eligibility for Obamacare's insurance subsidies, which would require applicants to submit Social Security numbers, addresses, income numbers, and other sensitive personal information.
The administration insisted that Web security would be tight. "The final Marketplace rule," Gary Cohen, the top exchange official, told the Senate Finance Committee in February 2013, "ensures Marketplaces develop and follow high standards regarding the privacy and security of personal information while following Affordable Care Act requirements regarding the use of data."
Reality: By launch day, the deadline-driven operational demands outweighed security concerns. The exchange went live under a last-minute temporary security authorization signed by Marilyn Tavenner, the head of the Centers for Medicare & Medicaid Services. It said "aspects of the system that were not tested due to the ongoing development exposed a level of uncertainty that can be deemed as a high risk."