Senate Moves Forward With Votes to Keep Funding Obamacare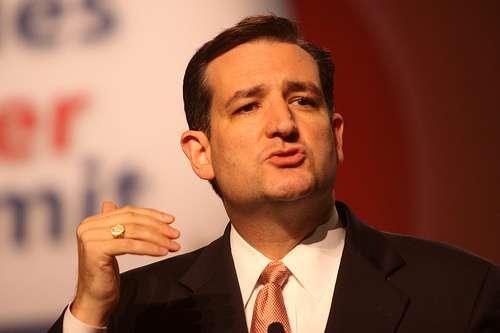 Sen. Ted Cruz (R-Tx.) spoke out against Obamacare on the Senate floor for more than 21 hours yesterday and today. That makes it the fourth longest filibuster-like speech in Senate history. It was the capstone, at least so far, to a long push by Cruz to defund the health law through a continuing resolution (CR) to fund the government when its current funding expires at the end of the month.
But the all-night effort doesn't appear to have been enough to change the outcome that seemed unavoidable from the start—that the Obamacare defunding language would be stripped from the funding bill by the Senate's Democratic leadership and sent back to the House.
The upper chamber just voted 100-0 to advance the CR and proceed with the inevitable, a vote that, as Politico explains, sets up "a series of votes that ultimately will send the spending bill back to the House without the health care provision after Senate Majority Leader Harry Reid (D-Nev.) strips it out."
Here's what comes next: Over the next few days, the Senate will go forward with votes that, unless Democrats unexpectedly break ranks, lead to the CR being sent back to the House with funding for Obamacare in place. It's likely that the House will get that bill on Monday. That's just a few hours before the current funding for the federal government ends.
The big question is what House Republicans do at that point.
With very little time left on the clock, the GOP-controlled lower chamber will probably have to either pass the Senate-edited CR, or allow the government to shut down at least briefly. Polls suggest the public is wary of a full federal shutdown in response to Obamacare, but some Republicans seem to think they can win politically should a shutdown occur. It's also conceivable that House Speaker John Boehner, who had initially tried to avoid an aggressive shutdown showdown over defunding the health law, might proceed with a vote on a CR that funds Obamacare over the objections of some House Republicans, and pass the funding bill with the help of Democratic votes.
Update: National Review's Robert Costa reports that it's likely that the House will pass a one-week CR in order to avoid a shutdown and create additional time to negotiate. The idea is getting traction, according to Costa, because conservatives think it might force the White House to make a deal that perhaps included some concessions on Obamacare. It's not clear what pressure that would put on the administration, or why the White House would soften its negotiating stance during that week, but we'll see.