Sen. Ted Cruz on the Senate Floor Right Now Speaking Against Obamacare Until He Is 'Unable to Stand'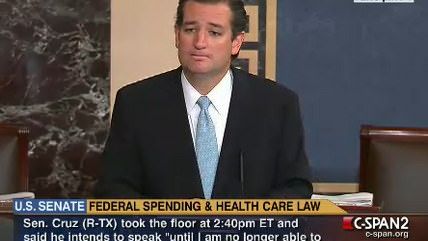 Technically it's not a filibuster, but Republican Texas Sen. Ted Cruz is certainly intending to do his best to simulate one. Right now he's on the Senate floor speaking out in his fight to defund Obamacare and doesn't intend to stop any time soon. He likely has no chance of actually succeeding in his efforts, but like Rand Paul's drone filibuster (which was an actual filibuster), it will get him some attention. The Hill notes:
While Cruz's gambit had the flavor of a talking filibuster, Senate Democrats said it didn't technically qualify because it won't stop a scheduled procedural vote Wednesday that will allow senators to take up the House bill.

Cruz is attempting to delay — for as long as possible — consideration of a continuing resolution passed last week by the House, which funds the government through mid-December while also stripping funding for the Affordable Care Act.

Senate Majority Leader Harry Reid (D-Nev.) is expected to advance H.J.Res. 59 with an amendment to remove the House language that defunds ObamaCare.

A vote to end debate on the motion to proceed is expected Wednesday, and Cruz's actions cannot stop that from happening.
He's been speaking for less than 30 minutes, and I'm about to jump in to livetweet some of his comments at our 24/7 Twitter feed. He's also being televised on CSpan here.
UPDATE, 7:10 P.M. (Eastern): Cruz is still going on, but he's reached the point where his comments have essentially looped and he's repeating his arguments, and so we've brought about an end to our live-tweeting. He started speaking at 2:40 p.m., so it's been 4.5 hours so far. CSpan is still airing his comments for those who want to watch live.