Labor Group Issues Sharply Worded Statement On Obamacare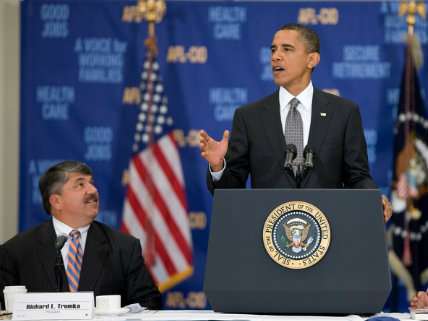 Labor unions haven't exactly warmed to Obamacare recently. Several smaller unions have denounced the law already this year, and criticism from the A.F.L.-C.I.O. has been growing over the summer. As Nick Gillespie noted earlier today, that criticism culminated this week with a sharply worded resolution passed by the group at its convention.
As The Washington Examiner's Sean Higgins notes, the resolution says that Obamacare "should be administered in a manner that preserves the high-quality health coverage multi-employer plans have provided to union families for decades and, if this is not possible, we will demand the ACA be amended by Congress."
It's not quite a call for repeal in the absence of alteration, but it's a rather strong criticism for a group that initially supported the law and is closely linked with the Democratic party. And it was very nearly a declaration that the law should be either changed or repealed.The New York Times reports that after speaking with President Obama about union concerns regarding the health law this summer, A.F.L.-C.I.O. president Richard Trumka agreed to tone down the group's criticism of the law. And as the resolution was being drafted, Mr. Trumka reportedly "made sure to strip out some proposals that called for repealing the legislation."
But as the Times also notes, that's exactly what some other labor bigwigs are calling for in the absence of the changes they want made to the law:
"If the Affordable Care Act is not fixed and it destroys the health and welfare funds that we have fought for and stand for, then I believe it needs to be repealed," said Terence M. O'Sullivan, president of the Laborers' International Union of North America. "We don't want it to be repealed. We want it to be fixed, fixed, fixed.
Good luck with that. Congress isn't likely to pass labor-friendly "fixes" to Obamacare any time soon. And while the White House has reportedly considered pursuing an administrative tweak, it's not clear that the executive branch has the authority to do so without congressional authorization. Now, that hasn't stopped the administration from changing the health law in other ways, but if the administration went ahead with yet another legally dubious change to the law to make life easier for its union allies, it would result in even more controversy and attention.