This Week Marks the One-Year Anniversary of Julian Assange Seeking Asylum in the Ecuadorian Embassy in London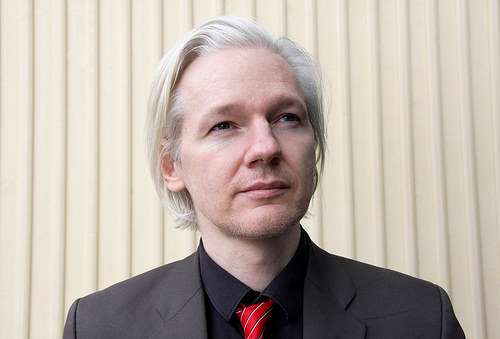 This week marks the one-year anniversary of Wikileaks founder Julian Assange being holed up in the Ecuadorian embassy in London, an arrangement that's kept him from being extradited to Sweden to face sexual assault charges.
BBC reported today that Ecuador Foreign Minister Ricardo Patino arrived at the London embassy this past weekend. After meeting with Assange, the minister confirmed that he's "in good spirits," despite the "limitations of his accommodation" and the fact that he has not stepped foot outside the compound in 363 days. Patino added that Assange is "prepared to stay inside the embassy for five years." The minister did not elaborate on what would happen to Assange thereafter.
Assange's presence appears to be causing some tensions between Ecuador and the United Kingdom. Patino met with William Hague, the British Foreign Secretary. No breakthroughs were made in the discussions, and both nations maintain their previous stances. Britain feels a legal obligation to extradite Assange to Sweden; Ecuador fears that will lead to Sweden extraditing him to the United States, which wants to charge him for leaking diplomatic cables.
Assange expressed a more positive outlook about his current situation. The Independent reports:
"I think the position in the UK is softening," he told the AFP news agency. "Of course, it will never publicly humiliate the United States by offering me safe passage in a manner that doesn't seem to be forced."
Assange also voiced his support for Edward Snowden, an NSA contractor who leaked a series of reports and revelations about the NSA's data collection program. The program has worked for years with major internet and communication companies to gather meta data on virtually all Americans. Assange referred to Snowden, who he claims to have "indirect communication" with, as a "hero" for making this known to the public. He blasted the United States, accusing it of "being in bed with the surveillance complex" and not protecting human rights.
The Wikileaks founder was given the opportunity to elaborate further. Assange gave a video-address to the International Symposium on Electronic Arts, which was held in Sydney last week. He expressed his belief that PRISM is only the tip of the iceberg:
"Edward Snowden revealed something that I've been speaking about for a long time, providing clear concrete proof that the internet has penetrated every aspect of society, right along with it is mass surveillance."

"Right along with it is mass surveillance—mass surveillance by the National Security Agency of the US, working in co-operation with its partners and other countries trying to do the same thing, although not nearly as effectively."
Assange also provided anecdotal evidence that "showed how close Google was with the US government," according to The Guardian.