Brian K. Vaughan's New Digital Comic, The Private Eye, Is a Brilliant Riff on a Post-Privacy Future
The new digital comic paints wild picture of life after a privacy apocalypse.
The Facebook era has brought with it endless speculation about the end of privacy—a world in which everyone shares themselves and their lives freely. But what if what we think will be the end of privacy actually ushers in an era more private than ever? That's the question behind comic book scribe Brian K. Vaughan's newest series, The Private Eye. It's a masterpiece of comic book world building—and a brilliant sci-fi riff on what happens after the end of privacy nearly ruins everything.
Set in Los Angeles six decades from now, Vaughan's comic, which he co-created with artist Marcos Martin, envisions a world in which the Internet no longer exists. The Net was taken down after what can only be described as a privacy apocalypse. As the series' protagonist describes it, everything was once stored in the cloud, and then one day all that information "just poured right out for the whole damn country to see. Every message you thought was safe, every photo you thought you deleted, every mortifying little search you ever made—it was all there for anyone to use against you."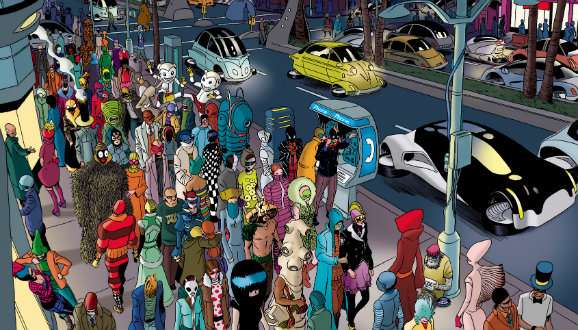 The resulting world is one built out of the backlash to the privacy apocalypse—which is to say, a world in which privacy is taken very, very seriously. It's not just that there's no more Internet. Members of the press are now literally licensed agents of the state. Unlicensed journalism is a crime. Just about everyone wears outlandish disguises in public—everything from cheap-looking fish masks to holographic animal heads to full body disguises that transform ugly men into beautiful women.
That makes for some thrillingly wild visuals from Martin, whose cartoony but fantastically detailed art helps bring the series' expansively weird world alive. Colorist Muntsa Vicente gives his images a bright, bold color palette—like Wonka World as seen under the light of the California sun. Their crowd scenes and streetscapes, in particular, offer rich visions of a which elaborate individual costuming has become a normal part of everyday life—part fashion, part personal statement, part protective disguise.
The first issue is devoted mostly to sketching out the world, but what story we get concerns an unlicensed paparazzi who specializes in extremely thorough illegal background checks. That allows Vaughan to play up the detective noir aspects with allusions to The Maltese Falcon and Angel Face. Indeed, Vaughan and Martin hide a slew of sly references and big ideas in their panels and dialogue: I grinned when a licensed fourth estate agent identified himself as Strunk. I laughed out loud at an image of a training whizzing through the city with an ad for the Los Angeles Times plastered on the side—tagline, "Your Tax Dollars AT WORK." For the truly attentive, Vaughan and Martin even manage to work in references to The Flaming Lips, Freakonomics, and playwright Henry Miller. It's clever stuff, and a heckuva lot of fun to both read and look at.
With only one issue out so far—the plan is to eventually published about 10—Vaughan is only beginning to build the world and explore its potential ideas. But if his previous comics work is any indication, he's sure to find somewhere interesting to go. Previous Vaughan-created series, like Ex Machina, have dealt with a host of libertarian-friendly themes of state control and personal freedom; his other current series, the equally fantastic Saga, is in part a dazzlingly inventive sci-fi/fantasy take on the desire to opt out of a politically determined life.
Still, for all its thematic ambitions, it may be the biggest and most consequential idea in The Private Eye isn't the story itself but the way it's sold. Vaughan's other comic series have all born the seal of a major comics publisher or imprint. But he and Martin are digitally self-publishing their new creation without the aid of any publisher. There are no print copies at all. Instead, interested readers can go to PanelSyndicate.com and pay as much or as little as they want in exchange for downloading a digital file.
The Private Eye may be a story about the consequences of digital sharing, but I'm sure glad that Vaughan and Martin have put their comic in the cloud for anyone to see and share. It's easily the best new comic series I've read this year—and its greatness is something that shouldn't be kept private at all.