How Universal Background Checks Put Me on an Island With Orrin Hatch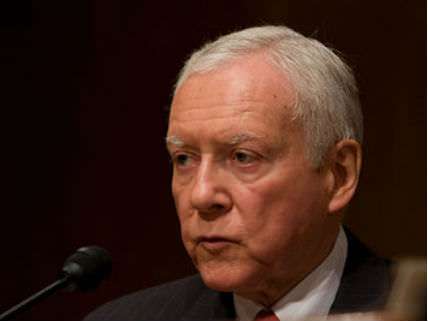 Last week Sen. Orrin Hatch (R-Utah) expressed opposition to the idea of requiring background checks for all gun transfers, saying:
That's the way reductions in liberty occur. When you start saying people all have to sign up for something, and they have a database where they know exactly who's who, and where government can persecute people because of the database, that alarms a lot of people in our country, and it flies in the face of liberty.
That remark was the starting point for a HuffPost Live discussion in which I participated today. Surprisingly, although there was some disagreement on the issue of background checks, all of the outside panelists—who included Rhinoden.com writer Greg Drobny, law professor Josh Blackman, and firearms instructor Matthew Mahoney—were defenders of a robust Second Amendment. The task of pushing for more gun control therefore fell mainly to Huffington Post congressional correspondent Michael McAuliff and host Abby Huntsman. You can probably surmise McAuliff's position on gun control from the way he reported Hatch's comments:
Pursuing even the most popular of measures to curb gun violence would be a step toward destroying Americans' liberty, Sen. Orrin Hatch argued Thursday.

According to a string of polls, most gun owners favor the idea of universal background checks for gun purchases, and such a system was considered the most likely response to the horrifying rampage at Sandy Hook Elementary School.

But for Hatch (R-Utah), even that is a move toward tyranny.
Huntsman, though amiable and unfailingly polite, offered clues to her own views with questions like these:
Are you guys paranoid that background checks might become universal? Does that scare you?

[To McAuliff:] Are they on an island by themselves?

We know it's a problem. We know there are simply too many guns. Maybe some of you would disagree with me, but I think the majority of Americans think there are too many guns out there. We need to make steps in the right direction so people are not getting killed, especially by those who are not mentally stable.
For my first question, I was asked to address this tweet from a viewer:
We have limits on our freedoms every day. They're called laws, and without them there isn't an organized society.
You can watch my response, along with the rest of the debate, here:
I outlined the problems with "universal background checks" in a recent column.