Former Vice Presidential Candidate Wayne Root Leaves the Libertarian Party
Wayne Root, the controversial 2008 vice presidential candidate for the Libertarian Party, announces that he's leaving the Party and his position on the Libertarian National Committee and Libertarian National Campaign Committee to pursue his political goals outside of third parties. He intends to seek a federal Senate seat in the "near future" of the Tea Party persuasion, but within the Republican Party.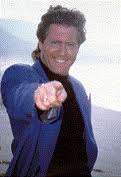 Independent Political Report runs his announcement. An excerpt:
Today I'm announcing the most important decision of my political career. Today I am stepping down from my roles in the LP, LNC, and LNCC . After six years of giving my heart and soul to our party, this decision does not come lightly. I leave with nothing but fond memories. I leave awed by the intensity, love, and loyalty of Libertarians, LP political candidates, LNC members, and LP leaders….

Like some of my political heroes who have fought the good fight for smaller government — Ron Paul, Senator Rand Paul, Senator Jim DeMint, and in earlier generations Ronald Reagan and Barry Goldwater — I have come to the conclusion that I'll have more opportunity to elect good people and change the direction of this country outside of a third party.

It is the exact same decision that Ron Paul (our former LP Presidential nominee) and his son U.S. Senator Rand Paul made. It is the decision that many libertarians have made- from David Koch (our former LP Vice Presidential nominee), to the founders of CATO…..

But regardless of any differences there might be in matters of strategy, I will always have fond memories of my six years with the Libertarian Party. I salute all of my colleagues as heroes fighting for liberty. The hard work you do day in and day out is nothing short of remarkable. I remain amazed and stunned at your level of loyalty and work ethic. I leave with only positive things to say about my LP experience.

But I'm not really leaving. I am a Lifetime Libertarian Party member and will always call myself a REAGAN Libertarian, or Libertarian conservative. Just like a Congressman Ron Paul or U.S. Senator Rand Paul, I have simply decided to move my Libertarian beliefs and the fight for smaller government to a different battlefield….

To save our country and restore liberty, I have come to realize that I need to take practical steps to win office myself, so I can have a direct effect on the future of America. I plan to join Tea Party U.S. Senators like Rand Paul, Jim DeMint, Marco Rubio and Mike Lee in the near future, representing the great state of Nevada.
Root has been criticized quite a bit in these pages, for indulging in Obama college conspiracy mongering, praising Mubarak, and advising votes for Romney, among other things.
Matt Welch talked to Root for Reason.tv at FreedomFest in Las Vegas in 2011, talking (among other things) about how libertarians need to focus only on economic issues, not social ones: