Young Voter Panel at DNC Ignores Obama's Abysmal Drug War Record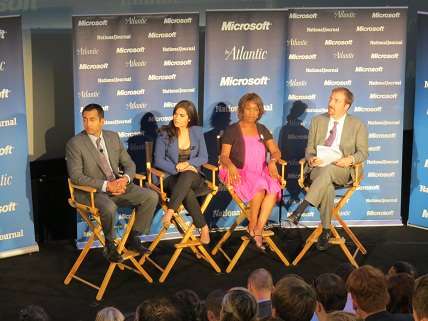 CHARLOTTE—During an Atlantic magazine sponsored discussion on the declining enthusiasm among young people for President Obama, the now infamous Harold & Kumar campaign video was shown but, as has been the case throughout the Democratic National Convention, nobody discussed the president's drug war record.
The crowd and panel, compromised of Kal Penn, America Ferrera, and Alfre Woodard, chuckled at the hapless stoners in the video as they laughed at their television after receiving instructions from Obama.
"There was no smoke there…the air was clean," said moderator Chuck Todd after the clip finished.
"No, not in a political ad," said Penn, who stars in the stoner comedies.
The crowd chuckled.
"We were just hungry because it was the morning," continued Penn.
"Of course, Doritos and pizza," said Todd, nodding.
The panel spent as much time talking about how to reactivate young people as activists for Obama's reelection as it did with the problems those young people face. Penn took exception to Todd's suggestion that there is any kind of enthusasim gap in support for Obama from young people
The panel took three questions from the audience before leaving and were not available to the press at the event's conclusion.